Style for Style: Floral Tights
If you're bored of bright coloured tights, or if lace tights just aren't for you, maybe you're ready for the next challenge — floral tights. I've had a pair sitting at home for a while, but have been too nervous to try them on. Now that I've warmed to them, I thought I'd give them a shot and see what you think. The style is currently available all over the High Street from River Island to Dorothy Perkins, but my pair are by Celeste Stein (£12).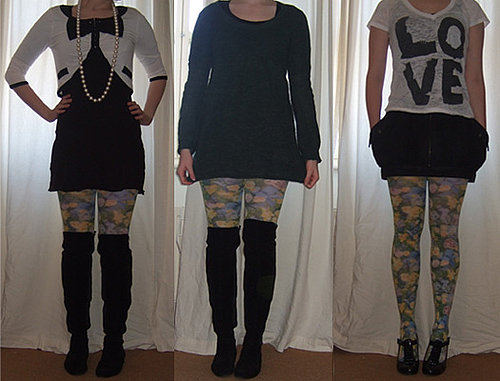 They're not quite as bright as the picture suggests (a relief), but I still want to break up the pattern. My advice is to keep it simple. Pairing them with stripes, dots or tartan would be more of an advanced complicated look to pull off.
They looked great with a short black dress as they added a shot of colour for Spring and over the knee boots helped to stop the pattern being overwhelming. If you're not comfortable with such a short skirt then try a longer length with heels that just reveals a hint of the pattern.