Style for Style: How to Wear Tartan Tights
You'd have to have been on another planet since February to not know that tartan is bang on trend this autumn. Appearing on the catwalk at House of Holland and D&G the trend has now filtered to the High Street and to tights! I decided to try out a pair to find out how to wear this season's hottest trend.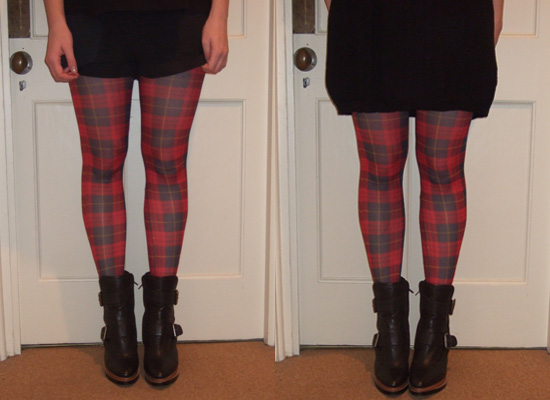 I chose a tartan pair by Pamela Mann (£7.95) and was initally very excited by the prospect. They're quite bright which is a bit shocking and they weren't as thick as I expected. I wanted to make the tights look as punk as possible so I teamed them with a pair of buckled ankle boots.
I wore them out to a party with black shorts and a black vest keeping the attention on the bright tights. I also tried them with a knitted pinafore dress (right) which mixed textures. I found the knitted dress was more flattering (possibly because it was slightly longer) and also thought that if you wore flat knee-high boots that it would be a good daytime ensemble. What do you think of the tights?