T bar sandals, Platforms, French Connection,
Fab Worthy: Juno Sandals at French Connection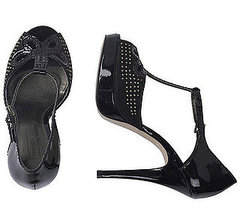 Personally I think that French Connection is a bit of an unsung hero of the High Street shoe world. I never really consider it when seeking out a new pair of heels but when I stumbled upon this pair of t-bar sandals I could not ignore them!
The Juno sandal (£100) features tiny studs and peep-toe detail. Although the heel is quite high, the shape of the curve and the height of the platform makes them more comfortable.
They're definitely a party shoe but put them in a bag and change in to them when the office closes to update an outfit. What do you think?