Tamara Ecclestone Hair
How To: Tamara Ecclestone's Roller Curls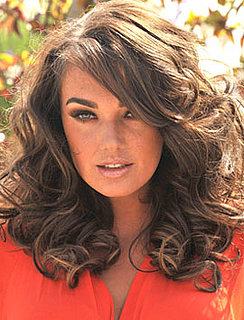 Tamara Ecclestone looks like an old-time Breck girl as she posed for photos as the new official face of hairdresser Royston Blythe. Tamara's hair is coifed in cascading curls, an old fashioned hairdo that became popular in the 1980's and has since never gone out of style.
Styling products and beauty tools like volumiser, hairspray and rollers as the secret ingredient to creating this kind of bounce. This look takes time, as opposed to the relaxed, beachy waves hairdo that you learnt to create yesterday, however it's easy to acheive.
For five step directions on how to get sexy, velcro-roller curls at home, just read more.


STEP 1: Begin by using a volumising shampoo and conditioner. Towel dry hair (very gently) and apply an anti-frizz serum, a thickening spray to the roots of your hair and a heat-protection spray all over. Check out my recommendations here.
STEP 2: Next, blow dry hair straight until it's 95% dry in sections. As you dry each section (start from the bottom up and leave the crown wet) and the hair is still hot, wrap the hair winding it from bottom to top using a large velcro roller. Although this is intended to stick in place without any assistance, I like to secure the rollers using bobby pins or claw clips.
STEP 3: Now that you've finished the majority of your hair, it's time to work on the most important part — the crown. Again, dry hair and use the rollers however, wind them away from the face this time for extra fullness. Once you are finished, carefully heat the hair up again. When it's hot, switch your dryer to the cool setting so that the hair sets. Leave in the rollers for about 20 minutes (this is a great time to do your makeup).
STEP 4: Mist hair all over with a light hold hairspray. Let it dry for about one minute before taking out the rollers. Unwind them gently and then flip hair upside down. Shake your head to loosen the curls and then flip your head back up.
STEP 5: Finger comb a part and use a boar bristle brush to smooth hair into place (if necessary). Lastly, spritz either a setting lotion or a medium to light hold hairspray all over. Voila — you're gorgeous!