Taylor Momsen to Design Clothing Line
Fab Flash: Taylor Momsen Designs Clothes?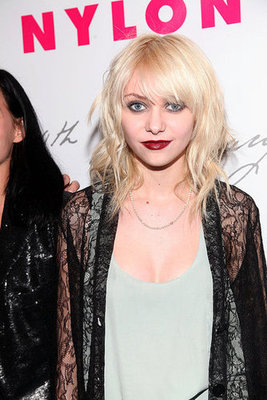 A lot of celebrities have announced clothing lines recently. First we heard that Gwyneth Paltrow was collaborating with Zoe's Tees, then rumours of a Pamela Anderson clothing line were heard, followed by Lady Gaga's plans. Today we can add another celebrity turned designer to that list as Taylor Momsen blurs lines between her on screen persona and herself. She attended two parties this week (sporting two different make-up looks) and revealed her creative side.
Taylor, who plays budding young designer Jenny Humphrey in Gossip Girl told The Cut that she'd already started making clothes for her upcoming tour with her band Pretty Reckless. She explained, "It's a rock band, so there's not costume changes but there's definitely a look."
However, before you either start asking when/where you can get your hands on these designs or start complaining about the amount of young stars turned designers Taylor was quick to add, "I only really design for myself. It's really fun." No doubt she'll soon have offers from a major retailer, but until then we will have to admire her ensembles from afar. Would you buy designs by Taylor?