Taylor Swift's New Perfume, Wonderstruck
Taylor Swift to Launch Her First Celebrity Fragrance, Wonderstruck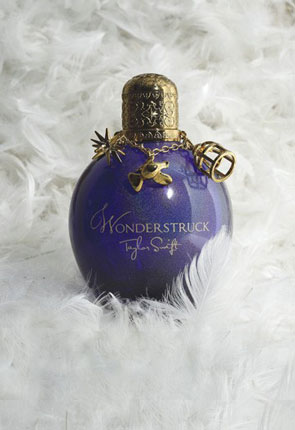 She's a multiple Grammy winner, has a deal with CoverGirl, and even has a few acting roles under her belt. So it makes sense that Taylor Swift is now about to launch her first celebrity fragrance: Wonderstruck ($50 to $60).
"I wrote the lyric, 'I'm wonderstruck, blushing all the way home,' for the song 'Enchanted' about the first time you meet someone," Taylor said in a statement, adding, "It's exciting to think that Wonderstruck will play a role in creating some of those memories."
The gourmand scent is meant to have a modern feel that's warm and sensual, containing a vanilla note that runs throughout. Wonderstruck also includes top notes of green tea, freesia, apple blossom, dewberry, and raspberry; middle notes of honeysuckle, hibiscus, and Hawaiian blanket; and bottom notes of peach, musk, and sandalwood. To find out more, just keep reading.
As for the packaging, the iridescent purple bottle reflects her favorite color, while trinkets such as a dove, birdcage, and Moravian star represent objects that carry personal meaning to her. And since she considers it lucky, the number 13 is embossed in the design.
The line will also feature a rollerball ($18), a body lotion ($29), and a ball gel ($25) and will be available at Macy's, Dillard's, Belk, Sephora, and Ulta stores in the US this October, as well as in Puerto Rico, New Zealand, and Australia. A larger-scale launch will take place globally next year. Do you think you'll be giving this forthcoming scent a try, or are you not particularly struck by the wonder of this perfume?