Tidbits of Fun from London Fashion Week Backstage
Random Bits of Fun from London Fashion Week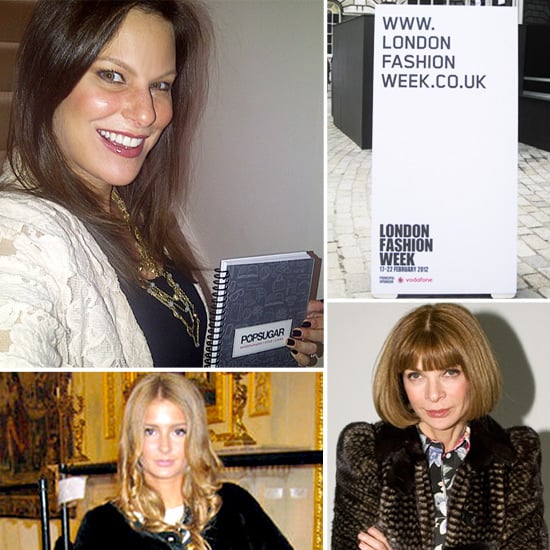 Now that London Fashion Week has been over for just about a full week now, I can finally take a deep breath and reflect on all of the amazing things I experienced. Not only were the shows terrific, but getting access backstage to see what goes on behind the scenes is always exciting. There's also oodles of fun things that you spy in the front row, on your way into the shows and in and about Somerset House. Since I was there pounding the pavement, I thought I'd share a few more fun tidbits of insight from the forefront of London's biggest fashion event!
There were amazing black fur seat covers at the Mulberry show that took place in a ballroom at Claridges Hotel.
On the way out of Topshop Unique, Alexa Chung was being followed by the paps. Whilst she was smiling for the cameras, she was secretly hiding a fag behind her back.
I chatted with Millie Mackintosh from Made in Chelsea backstage at the House of Holland show, as she was an acting intern for the beauty department at Glamour Magazine.
I spied Terry Barber, the Creative Director for MAC Cosmetics taking pictures with his fans in the bloggers lounge inside of Somerset House.
Backstage at the Erdem show, I bent down to fix my boot and when I stood up, Anna Wintour was standing right in front of me — we almost bumped right into each other!
I sat next to the beauty and fashion buyer for Harvey Nichols at the Antonio Berardi show, where we gossiped about how the Manolo Blahnik shoes were much too narrow-heeled and slippery for the models to walk in on the marble floors.
At the Burberry show, it was really heartwarming to watch Poppy Delevigne sit in the front row smiling proudly and taking pictures of her little sister Cara walking down the catwalk.
Also at Burberry, I couldn't help but be enamored with Rosie Huntington-Whiteley's matching rose nail varnish and lip colour.