Tom Ford, Gucci, Daniel Craig, Quantum of Solace
Fab Blab: Tom Ford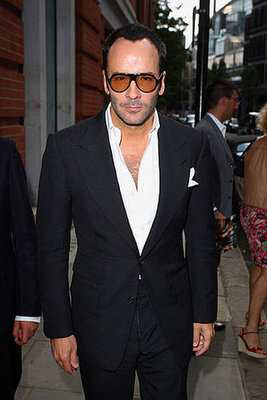 This weekend Hadley Freeman was lucky enough to catch up with Tom Ford for The Guardian magazine. She interviewed him about the great expense of his menswear line, his plans to design for Daniel Craig for the latest Bond movie and his time at Gucci.
He was introduced to Daniel Craig through a shared friend (Sam Taylor-Wood). Explaining why he wanted to dress Bond he said, "A lot of people think if you wear classic clothes you're dull. Bond dresses that way, but he does not lead a dull life - not sexually and not in his career. And with Daniel, you have someone who looks classic but leads a very exciting life."
Part of Ford's success owes to his business mind. He is on the ball, so to speak and predicts that China, Russia, Brazil and India are the upcoming countries, slightly bitchily adding, "Menswear in France does not exist. What do they have? Pink socks? Please." Miaow!
To find out about what else Ford has to say about '90s advertising and his obsession with details read more.
When Ford was growing up he worked as a model and hung out at Studio 54. "It was very easy to meet Andy and get into Studio 54 if you were a cute 17-year-old boy."
Ford joined Gucci in 1994 when he managed to bring the label back and redefined 'sexy' using sharp tailoring and clever marketing. But even Ford admits that he was having fun with advertising slightly, "In the mid-90s, when advertising was less overtly sexual, maybe I did it to provoke a little. But there had to be a message. When I shaved the G in the girl's pubic hair, that was a comment on the ridiculous lengths we'd gone to with branding."
The great thing about Ford is his extreme honesty. His boutiques (in New York and Milan) are excessively luxurious paying attention to the details. He admits, "I probably do have an obsessive personality, but striving for perfection has served me well." Can't argue with that!
Source