Being on the catwalk must be a nerve wracking experience and any error made by a model can become more famous than the clothes! Yesterday Heidi Range lost her shoe on the catwalk at Fashion for Relief and this got me thinking about catwalk blunders, so here are a few of the most famous...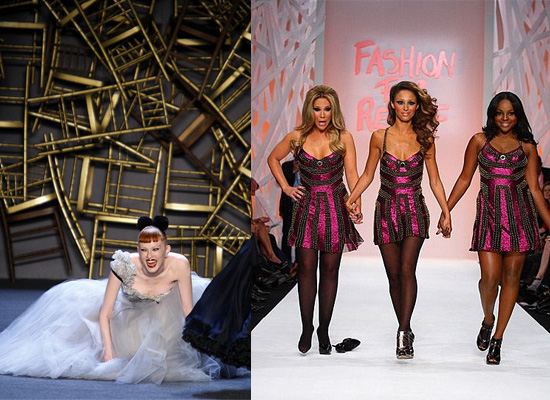 Last season Karen Elson strutted down the catwalk at Zac Posen in an enormous ball gown and Mickey Mouse ears. Unfortunately, she didn't make it very far down the catwalk before falling over. Proving what a good sport she is, Elson laughed it off before being offered a hand up from no other than P Diddy.
To find out about the most famous catwalk blunder (and to see a clip) just read more.
The most famous catwalk blunder has to be from Vivienne Westwood's 1993 Anglomania (?) show where Naomi Campbell attempted to walk in 10 inch heels. There's a clip below of the fall and it looks quite painful!