Topshop and Miss Selfridge Spring 2010
What to Expect on the High Street Next Spring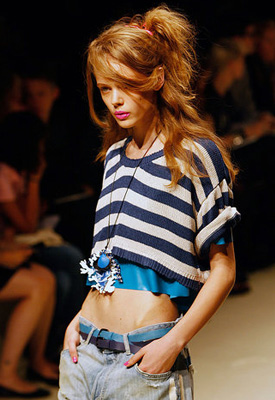 Attending catwalk shows and reporting back is always exciting, but when you see the High Street interpretations it gives you an idea of how the trends will really manifest. Yesterday, Arcadia held their Spring press day which presented the items due to hit store from January 2010. Although I can't show you any images just yet (patience is a virtue!) I wanted to tell you a bit about what to expect.
First up, I checked out Miss Selfridge which was very girly. It was divided in to two key trends; neutrals and '90s florals. There were nude shades covered in sequins for flapper style dresses with subtle jacquard floral prints and delicate feminine fabrics. These were contasted against bright, floral prints, grungey designs and '90s boho.
Next up was Topshop, which is always the most trend driven of the High Street stores. They split the Spring collection in to four key themes; body armour, la latina, meadow and techno traveller. Body armour was my favourite part with sportswear inspired designs and '90s column maxi dresses. La latina is the high Summer collection with bright fun prints, whilst meadow is a bit more subdued with soft floral prints. Finally, techno traveller will appeal to festival fans as pieces were bright, cheerful with embellishment and fringing.