Trend Alert: Cropped Sleeve Jacket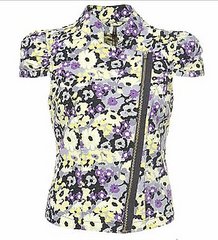 A long sleeved jacket can be too much during the summer months but no jacket at all may leave you cold, which is why those clever designers have created the cropped sleeve jacket. Hardly revolutionary but they're appearing everywhere this season following their appearance on the catwalk at Balenciaga. Topshop have channeled Balenciaga with this cute floral jacket (£45) but it doesn't have to so on trend. You could opt for a simple plain jacket for a chic timeless look.
If you're quite heavy on top then opt for a scoop neck style which will be more flattering. If you've got a boyish figure then a tight fitting style will give you more shape.