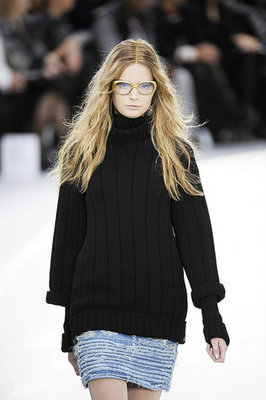 This season sees the return of the denim skirt on to our fashion radar. I want to declare that a denim skirt is a wardrobe staple as there is always one lurking around in my wardrobe (great on holiday with a bikini). However, it is one of those items that can go very, very wrong and is seen worn badly on a daily basis (especially when teamed with cropped leggings with lace detail.)
This aside, it re-emerged for Autumn on the catwalk at Chanel where Karl included a distressed style denim and teamed with a big knitwear for a grunge look.
You can always pick up vintage denim skirts at Urban Outfitters and Rokit. Most High Street stores do a denim skirt too and this season Chloe smartened up the look with the help of a line of gold buttons. When wearing a denim skirt remember the classic rule that less is more! Most denim skirts reveal a lot of leg so opt for quite a heavy top.