Trend Alert: Floral Shoes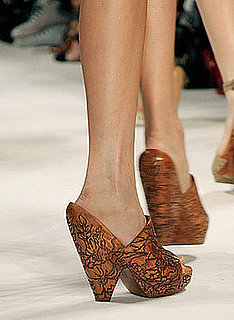 Now that you already have your floral dress, and miniskirt why not complete your floral wardrobe with a pair of floral shoes? The trend has now hit footwear where Stella McCartney reigns supreme with her cork etched wedges (pictured) which appeared on her Spring catwalk.
I would not recommend wearing head to toe floral but when you're wearing trousers why not hint at the trend with pretty flats or funky heels. Stella McCartney's designs are more subtle so are the perfect addition to a floral dress. See below for more examples.