Trend Alert: Fringed Shoes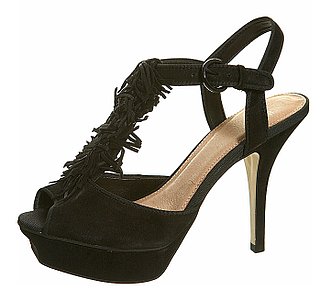 I know this might seem like an easy point of blame but I think it's fair to say that you can blame Kate Moss for fringed shoes. Her obsession with moccasin boots has caused them to stay on the fashion radar (albeit on the outskirts) for almost as long as Ugg boots.
However, fringe detail on shoes has taken a turn for the better as it begins to grace not just boots but also t-bar heels and sandals. It's quite subtle on suede t-bar shoes as the fringing is short but the same cannot be said for sandals.
Whilst I like the Urban Outfitter sandals pictured below I can't help but think that anybody wearing them near an animal of the feline persuasion should be very careful. A cat could easily mistake the fringe-detail for a tassle and quickly scratch your poor toes to bits. You've been warned!
The pair pictured are from Topshop for £60.