Trend Alert: Heeled Loafers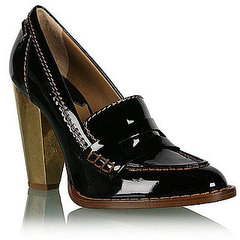 The jurys still out on loafers but I'm definitely warming to the trend. Usually, when I start to come round to a style I was initially opposed to, I'm always really picky about how I wear it. For example, at first I only liked leggings with heels or boots (I have since fully given in). Where the loafers concerned, I still only like heeled loafers!
D&G have a rather beautiful pair in black patent (£285) which I have been silently lusting after for a long time. If shoes were boys then this pair would represent true love.
Also on my fashion radar are a pair by Topshop (£60) which I wouldn't mind a fling with. Finally, Urban Outfitters (£115) are offering a jolly coloured pair which would be great if you lived in a warm country. Sadly old Blighty seems to be offering a lot of grey skies and rain recently so I'll just admire these from afar.