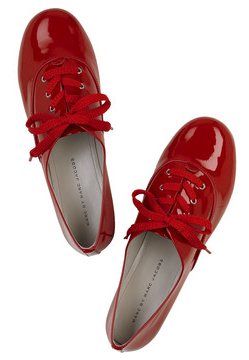 There's a change in the air when it comes to flat shoes. Finally everybody is growing bored of the Audrey Hepburn style ballet pumps and looking for alternatives.
First came loafers which have been spotted on Kelly Osbourne and Fearne Cotton, and now there's the jazz shoe! Although this style of flat has been on the fashion horizon for a while they are now available everywhere from Marc Jacobs to Topshop.
They're a great chic yet comfortable choice of footwear for the day and would look great with slightly cropped tailored trousers.
My favourite are the red Marc by Marc Jacobs (£220) pair which would brighten up any outfit but see below for other options.