Trend Alert: Lauren Moshi Animal Tanks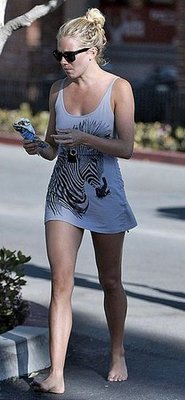 Yesterday, we asked you about animal prints and whether you ever wore them. Well, this is an animal print with a difference! The LA girls are already firmly backing this trend with the likes of Paris Hilton and Lauren Conrad sporting the printed tank tops. Also, on a recent visit stateside Sienna Miller was spotted in a zebra print top (which she wore as a dress).
Now the tops are available to order in the UK! Hoorah! You can chose from zebra, rose, elephant or teddy bear all in a black and white illustration print. The best thing about this celebrity trend is that it won't break the bank, the tops are just £55. You can wear it with nothing else (a la Sienna) or with jeans like Lauren Conrad. Paris wore hers with a leather jacket and leggings. Go get yours now from Bunny Hug.