Trend Alert: PVC Leggings
PVC leggings aren't a new trend but they're a left over item from the fetish trend from last autumn which have carried though to this season. They have been spotted on celebrities on both sides of the Atlantic. From Kate Moss at Glastonbury 2007, to Mary Kate Olsen, to Rihanna at the Much Music awards they're always a great statement item. Obviously they're pretty unforgiving but I think most girls would be surprised at how flattering they can look.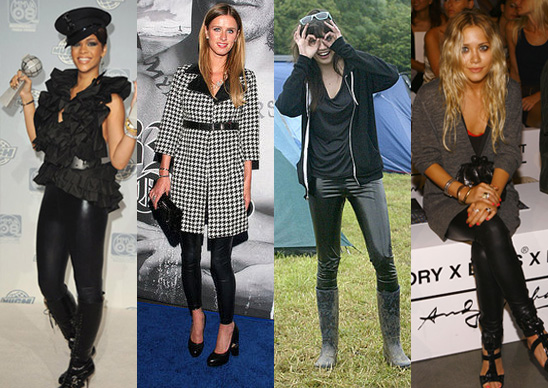 Unless you have supermodel-esque legs I would team the leggings with a longish top or coat dress (as seen on Nicky Hilton). I would also avoid wearing them with boots as your risk looking like a dominatrix! A soft knit (seen here on Mary Kate) is a great way to offset the harshness of the leggings. Most of the celebs have invested in a pair of KOVA&T black oxy leggings (pre order here for £85) but American Apparel offer a great alternative with these shiny high-waisted leggings (£32). Have you dared to try this trend yet?