Trend Alert: Return of the '90s
Trend Alert: Return of the '90s
There is no denying that there was a distinct '90s feel to the catwalk at last week's London Fashion Week. As London is the home of young talent we're now experiencing the style of designers who grew up in the '80s and '90s and their work reflects it. Meadham Kirchhoff included an item that were the jeans equivalent of Liz Hurley's safety pin dress, delicately held together with stitching and pins.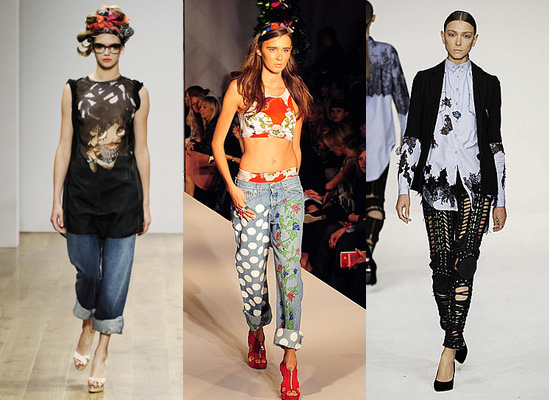 Henry Holland fell for the teen glamour of Beverly Hills 90210 for his Spring line which included bare midrifts and stone washed denim.
Danielle Scutt, the newly crowned Queen of denim also had a slightly '90s vibe to her collection which went for more of a grungey feel. She teamed big t-shirts with baggy jeans (above left) for a wearable version of the trend.