Trend Alert: Ridiculous Fashions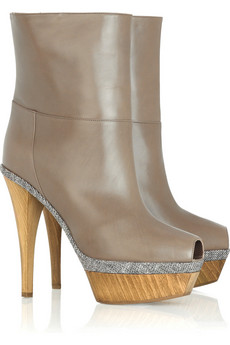 I have been feeling a bit sorry for the new open-toe boot. The footwear of the season has faced a bit of a battering by both the media and fashion lovers around the world for being the most ridiculously pointless item of clothing. Whilst I am in no way disputing that footwear designed for winter with a massive hole in the front seems a tad pointless in rainy old Blighty, since when has fashion been about practicality?
If it was, surely we'd all don festival wear all year round? It rains a lot in the UK so wellington boots are probably the best footwear, a Barbour jacket to protect you from the wind and an enormous wooly jumper for comfort?
In actuality, I think you'll find that when we signed up to this fashion game we agreed to give in to painful fashions, being cold and occasionally looking slightly ridiculous! So here are my top 3 ridiculous 2008 Autumn fashions; open-toe boots, peg leg trousers and sleeveless coats!