Trend Alert: Straw Clutch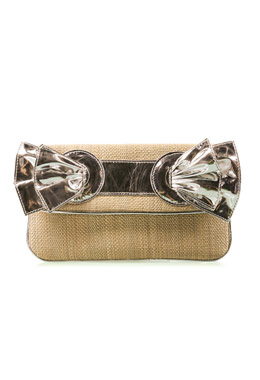 Evening clutch bags can be too heavy for Spring/Summer parties. It is still light when you arrive and your outfit in general becomes more colourful meaning that a black evening bag can look a bit out of place. So why not opt for a straw clutch instead? Sounds slightly strange as you don't generally associate such a natural fibre with dressing up but the latest offerings might just change your mind.
The bag can look more glamorous with a shot of metallic detail as see on the Michelle Clutch by Felix Rey (left, £150) or can be made brighter with a bit of colour as seen at Kate Spade (below, $225).
The great thing is that the High Street offers options from just £18 or you can pick up a Michael Kors version for £260, meaning you can spend as much or as little as you like. The accessory would perfectly compliment a floral dress for a garden party. What do you think?