Trendy Magnetic Nail Polishes
These Nails Varnishes Are Truly Magnetic
I remember back in 2007 when Lancome launched Le Magnetique. This reddish-purple nail polish contained little gold flecks and a magnet in the cap that you used to drag across the wet polish to create a crazy design — it was revolutionary! Four years later, it looks like Nails Inc, Fashionista, and Boots 17 are jumping on that same idea, turning it into a trend. Nails Inc Magnetic Nail Polish (£13) comes in three shiny shades with actual pieces of metal in the formula to attract to the magnet, so that you can create cool nail art.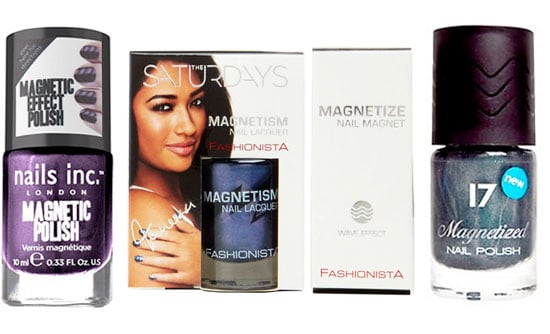 Next up is Fashionista joining forces with girl band The Saturdays to bring us a range of five magnetic nail varnishes — one for each girl! The polishes cost £6 each, and the magnet is sold separately for £3. Frankie has a silver shade, Mollie has a pinkish-purple hue, Rochelle has a metallic red, Una has a shiny forest green, and Vanessa has a funky on-trend grey colour. Get excited, because they all go on sale tomorrow at Superdrug.
Last but not least is the four-colour range from Boots 17 (£4.99). This one comes with a magnet in the cap and, like the others, is super easy to use. Just hover the magnet over your wet nail for about 10 seconds and wait for the effect. Then apply a topcoat, and let it all dry. See more photos of the polishes below, and let me know if you have a positive or negative attraction to this trend!