Tuxedo jacket, Dinner jacket, definition
Style Glossary: Tuxedo Jacket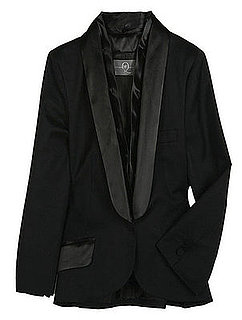 The tuxedo jacket is an important piece this season and Nina Garcia recently declared it as a wardrobe staple. The tuxedo jacket is officially known as a dinner jacket in the UK and was originally created by Henry Poole on Saville Row as a shorter version of the smoking jacket.
A tuxedo jacket is defined as, "A kind of black jacket for semiformal evening dress made without tails, usually of black or dark blue color and having satin or grosgrain facing on the lapels; so named after a fashionable country club at Tuxedo Park, New York."
This tuxedo jacket is by McQ by Alexander McQueen (£325).