University of Central Lancashire at Graduate Fashion Week
Graduate Fashion Week: UCLAN
The theatre was packed out for Monday afternoon's University of Central Lancashire show as twenty graduates presented their final collections. They opened the week last year, but 2009 students were just as memorable. Francesca Daw Watt produced one of my favourite collections of the day with her shoe lace fringed pieces. The simple yet effective detail adorned monochrome designs with airtex patches.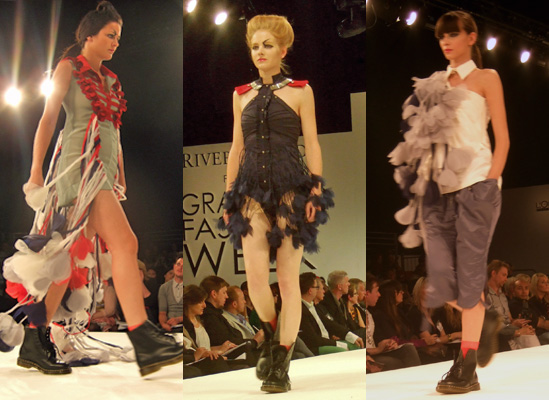 For further images, just read more.
Gemma Murphy created bold shapes with her origami garments. Using carefully placed folds and panels she produced volumious items alongside a fair isle knit romper suit that looked like the perfect lounging ensemble!
There was a definite Japanese influence to Samantha Jane Brady's collection which included pastel coloured dragon and fish print feminine frocks that were adorned with bright red tassles.
Dao Minh Nguyen closed the showcase with silk flower applique pieces that had a military edge. Drawing from a colour palette of red, white and blue the pieces had brass buttons and strong shapes.