Very Social: Chanel Debuts Autumn 2013 Campaign on Facebook and Twitter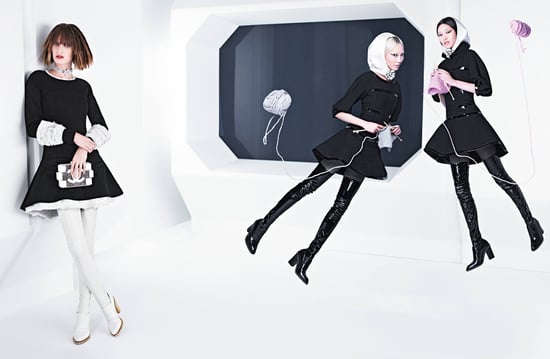 If you haven't been paying attention to your social streams, then you might have missed one of Autumn 2013's best ads yet: an image from Chanel's space-age campaign made its way to the brand's official Facebook, Twitter, and Google+ feeds.
The campaign was photographed by none other than the house's creative director, Karl Lagerfeld, and stars models Ashleigh Good, Chiharu Okunugi, and Soo Joo Park. The models hail from New Zealand, Japan, and South Korea, respectively, and their international backgrounds reflect the globalization theme of Lagerfeld's Autumn 2013 collection for Chanel.
If the ads look familiar, that's because this isn't the first time they've been spotted online. Some images from the campaign were leaked, scanned, and uploaded to The Fashion Spot last month, but today marks the campaign's official public debut.