Victoria Beckham, Antonio Berardi, Boots, Heels,
Victoria Beckham Steps out in Heel-less Berardi Boots
Victoria Beckham is never one to shy away from eye-catching fashion statements. She caught our attention last season with her ad campaign for Marc Jacobs and just a few weeks ago she was gaining publicity for her new pixie cut. This weekend the Beckhams were in New York to promote their latest fragrance and Victoria ensured the fashion gaze stayed firmly on her as she bravely wore a pair of Berardi boots.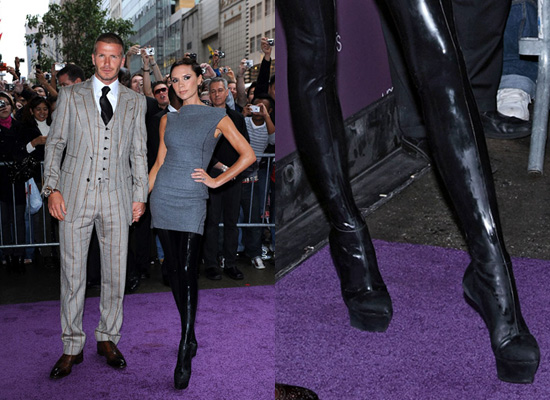 The unusual heel-less style is surely incredibly difficult to walk in, good job she had David to lean on! I revealed a similar pair of Berardi heels to you back in February and most of you thought they were ridiculous, but what do you think about Victoria wearing them? The over-the-knee style makes them even more risqué but I think she's pulling it off.