Vintage Clothing definition
Style Glossary: Vintage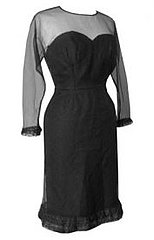 Second-hand clothing sales make up an important part of UK shopping and it is a fast growing industry. Whether you shop at charity shops, second-hand stores or vintage clothing fairs it seems they're is no resisting the allure of previously worn clothes.
Many of our style icons are big fans of vintage from Chloe Sevigny to Kate Moss and Alexa Chung but what exactly does it mean? Vintage clothing is actually defined as:
"The term vintage is used to describe clothing, either used or new from dead stock, which was manufactured in a non-contemporary era. Clothing made before the 1920s are considered antique, while clothing made in the 80s to mid-90s are considered retro."
This curvy vintage '50s dress is from Candysays.co.uk (£85)