Vivienne Westwood Iconic Shoes Exhibition Opening in London
Vivienne Westwood Shoe Exhibition Opens Soon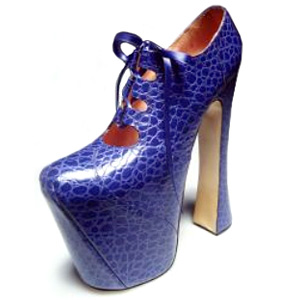 Vivienne Westwood's shoes are iconic. Who can forget the super elevated gillie platforms that sent Naomi Campbell flying across the catwalk in 1993? Or her pirate boots which continue to be on every fashionista's wishlist a staggering 29 years after they were first launched?
Selfridges have decided to celebrate Westwood's genius footwear skills with an exhibition dedicated to her shoes this Autumn. It is taking place in association with Melissa who Westwood has teamed up with on a line of plastic shoes for the past few seasons.
Vivienne Westwood Shoes: An Exhibition 1973-2010 will open in the basement of London's Selfridges on Thursday and run until 22nd September. Will you be checking it out?