Welsh Designer Collective at London Fashion Week Including Josie Beckett, Emma Griffiths and Elinor Franklin
2010 Autumn London Fashion Week: Welsh Designer Collective
Nurturing young, creative talent is what London Fashion Week does best and on a cold Sunday morning, it's just want I needed to keep going! The Welsh Designer Collective was a presentation by three female designers funded by the Welsh Assembly Government. All of the girls had a connection to Wales (either via training or their heritage) and it showed off what a range of talent the country has to offer.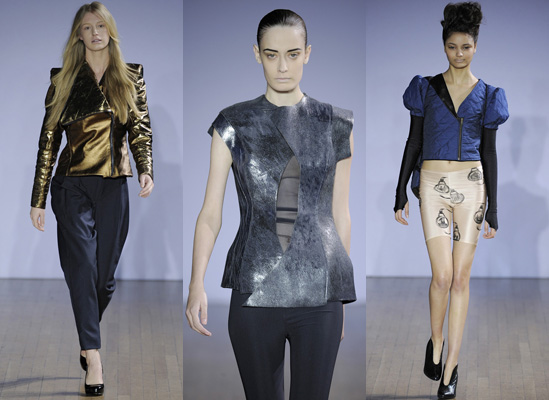 First up, was Josie Beckett whose creations are already available in Topshop and ASOS. This season, for her first London Fashion Week show she has extended her portfolio to include her own prints. She used the image of Henry VIII which appeared on t-shirts and leggings. There was a sporty feel to the pieces with quilted pieces, relaxed fabrics and even cycling shorts.
To hear more about the show and for images, just keep reading.
Next up was Elinor Franklin who embraced power dressing with an early '90s feel. Party dresses with draped fabric and one shoulder detail were presented next to a metallic trench coat and leather harem pants. The slightly harder fabrics added edge to the collection.
Last, but by no means least was Emma Griffiths who used a palette of nude and black for her body con looks. She used tie back detailing which softened the strong silhouette. There were squared shoulders and leather which created a body armour feel.
Photographs courtesy of Blow