Westminster University at Graduate Fashion Week
Graduate Fashion Week: University of Westminster
There was a lot of buzz surrounding Monday evenings University of Westminster show. The theatre was packed to the rafters with people eager to see the latest names from one of the most creative universities. Last years graduate show was my favourite so I was eager to see what 2009 would offer – I was not disappointed.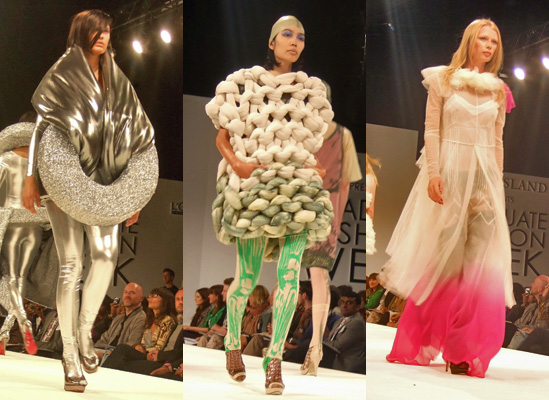 The show opened with Sarah Benning's collection of muscle printed leggings and oversized knotted jackets. She used jersey knit and latex for this voluminous collection. Danielle Read caught my eye as she created an entirely black line which included strong body armour-like shapes. They were boxy and almost robotic including a pair of chaps.
For further images from the show, just read more.
In almost complete contrast, Danielle Donohoe followed this with her bridal designs in sheer white with flashes of shocking pink. She used plenty of tiers and ruggles for her creations which were contrasted against black lingerie.
There were a couple of strongly themed collections on show including Meera Stannard's road marking garments, Kitty Ng's Village People inspired looks and Fflur Owen's cattle ranch pieces.
The show came to a dramatic end as Albertine Tucknott's religious designs were shown to a red lit catwalk. The looks were produced from sheer fabric and velvet with eye-catching pointed shoulders and memorable head dresses. Much like the Kingston University show, the quality here was of an incredibly high standard. Each piece was finished immaculately and the themes were fully developed. What do you think of this show?