What Colour Wedding Dress Would You Want to Wear?
Now that it's wedding season on the Sugar Network, it's hard not to daydream a little bit about a big day of your own. Whether it be reminiscing the past and wondering how you'd do it differently if you did it gain, or perhaps you're going steady with someone special and are dreaming about your own wedding.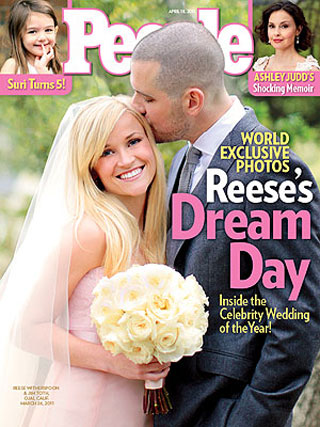 Any way you slice it, weddings are in your face this season, especially with the royal wedding on the horizon later this month and with photos of the gorgeous Reese Witherspoon just getting released.
This blushing bride decided to embrace her love of pink and wear a customised Monique Lhuillier pale bubble-gum gown for her fairy-tale wedding to Jim Toth. However, if one dress isn't enough for you, then follow Reese's footsteps and have two! The actress decided to change into shorter, white dress for the reception.
Other stars like Gwen Stefani wore pink, too, whilst many also opt for cream, beige or even black like Sarah Jessica Parker. What colour is your dream wedding dress?