What's in Your Bag? Calvin Klein Bag
What's in Your Bag? Calvin Klein Bag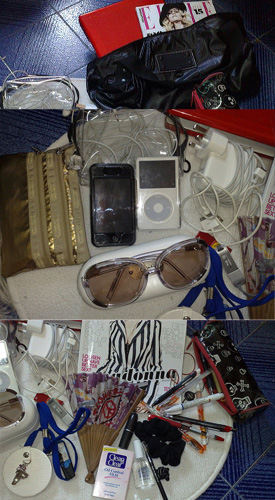 Today we get a very literal look inside retail_therapy's black Calvin Klein bag. Thanks for the pics, and I am amazed by how much stuff you carry around with you. Here is the entire contents of her bag!
Gold LesportSac Purse
Transparent MAC make up purse, I put my ipod and iphone earphones inside, as well as the USB adapter.
Ipod 30 GB
Iphone 8 GB
Chloe Transparent Shades (I have several pairs but this is my favourite currently)
Mirror!
Assorted flash drives
Fan I got from PASCHA (in Ibiza) to fan myself on hot hot days
Star shaped hair clip
Black scrunchie to toss my hair into a pony tail or bun
To hear about the rest of her bag's contents and to see how you can share your bag with the world read more
Silky Girl Gold liner
MAC blanketty lipstick
Black clip
Sally Hensen Ultimate Shield top coat (I very much prefer Mega Shine)
Clean & Clear Facial Blotter (love this! I don't need to touch up at all, and the grapefruit flavour is so refreshing!)
Pencil Case
June's ELLE with Maddy on the cover, I buy mags if I like the covers.
MacBook in a red casing
This month is all about handbags here at Fab Sugar UK so to keep with the theme we'd like you to show us your handbag and its contents! Post pictures of your trusty day tote here with its contents and maybe you will make it on to Fab Sugar UK. This also provides you with the perfect opportunity to be nosey in other people's bags!