What's in Your Bag? Faux Balenciaga
What's in Your Bag? Faux Balenciaga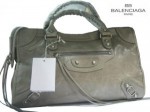 This month we have been asking readers to reveal their biggest secret, the contents of their handbag! You can add an image and list to the group here but today we're delving in to the bag of VSug.
Here's what's in her bag:
Lip gloss/lipstick/eyeshadow-highlighter-shade pack from my organic minerals make-up I actually ordered on line from a Lisa Gibbons-starring infomercial...and it rocks!
Orange iPod shuffle with about 235 of my favorite tunes
Pens
Date planner: pocket faux croc, red from Neiman's
To see what else is in her bag read more
Little, pretty note book from Anthropologie for random ideas that hit me anytime.
10-year old, Marc Jacbos, black large wallet that still looks like I bought it last week
Package of fresh blackberries in case I get the munchies
European sun block...the kind that doesn't just prevent skin cancers but also aging
My Jackie O.-like sunglasses
At least 3 red shaded lipsticks...including, of course, my Chanel Coco Red
You can see the full list here.