What's in Your Bag? Miu Miu
What's in Your Bag? Miu Miu
I am very jealous of today's What's in Your Bag. This Miu Miu tote has been lusted after by me for a very long time! Seems like Sugar reader adhusia makes good use of hers. Here's what's in her bag: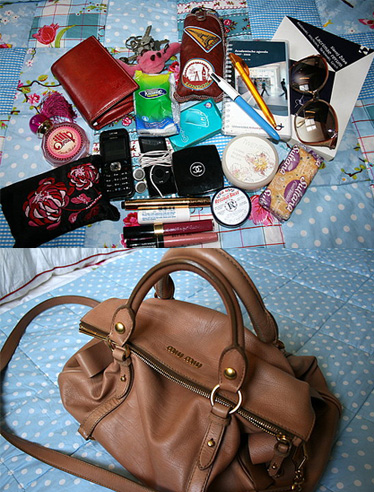 An ordinary red wallet
House & car keys with a monkey key-chain
An umbrella - because you never know in Belgium
An organizer (from school) & two pens
A book: currently "Lacrimae Rerum" by Slavoy Zizek (about the works of Kieslovski, Hitchcock, Tarkovsky & Lynch) - useful for school
Vintage YSL sunglasses
To see the rest of her bag's contents read more
Sultana cookies
"Twentie's" handcreme - it smells really nice
Rosebud Salve - good for everything
Compete band aids - in case my shoes are giving me a hard time
Kleenex
Chanel compact powder
YSL Touche Eclat
Purol lip balm - love the smell !
Fuchsia Chanel lip gloss & light pink Bourjois lip gloss
i-pod
my cell phone - a tad old but as long as it's working it's ok
currently my favourite scent: Muse by Oilily
Don't forget to add the contents of your bag to this group.