What's in Your Bag? Pool vs Work
What's in Your Bag? Pool vs Work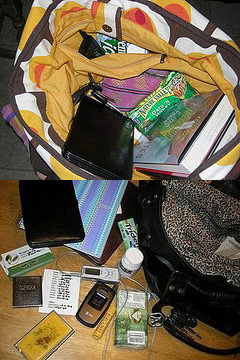 When asked to share the contents of her handbag with us, Sugar reader Cocoangel went the whole hog (so to speak) and showed us the contents of not one bag but two! The top bag is her pool bag and the below is for work. Here is the contents of her pool bag:
Library book - currently reading Celebutantes
Granola bar
Embroidered bag containing Purell, tissues, spare change
Black wallet
Keys
Cell phone
Gum
Advil
Outside pocket holds pool card
To see her other bag read more
Work
Dayplanner
Spiral notebook
Wallet
Business cards
Compact
Card containing phone numbers for colleagues
Cell phone
Tissues
Mp3
Burt's Bees Lip balm
Advil
Gum
Keys
Tell us all about your bag and it's contents here.