Why Are Some Bikinis So Expensive?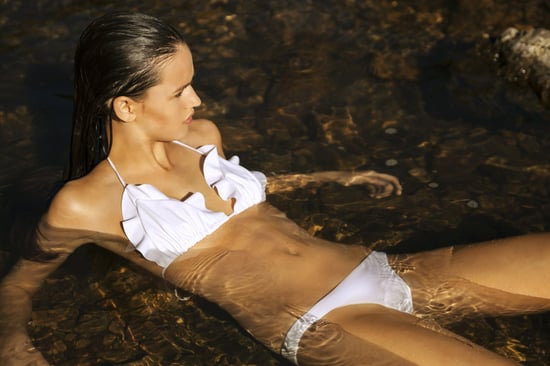 Every time swim season rolls around, at least one girl we know pipes up asking why swimming costumes can be so darn expensive. So we reached out to swimwear queen Nicky Zimmermann, of the eponymous label Zimmermann — the brand's bikinis typically range between £80-£300, with one-pieces creeping closer to £300. Based in Australia, she dependably turns out suits that are both stylish and immensely flattering, which shouldn't come as a surprise — no one rules a bikini like the Aussies.
Before you purchase your next suit, read over her explanations for why certain price tags are heftier than others and decide what amount makes sense to you. Cheapie suits can still be a great buy, especially if it's a specific trend you don't know if you'll love (hello, monokini) or if you'd rather pack a few different options for your next weekend away rather than going all in on one.
What's the main difference between low- and high-priced suits?
The look and feel should both improve when you're opening your wallet wider. "It's like any garment," Zimmermann explained. "You buy a cheap shoe and it hurts. It's the same with a swimsuit. You get what you pay for." The main things that stand out in a side-by-side comparison are the fabrication, durability, print quality, and finish, along with design and fit.
Give them both a feel.
Your fingers will likely notice the difference between a £30 bikini and one that's closer to the £200 mark. "Cheaper swimsuits are normally made from fabric blends and fillers that aren't as pleasant on the skin and usually fall apart quite easily," says Zimmermann. "We use quality Italian Lycras and choose them based on suitability for the print and texture and the feel on the body." In other words, when you slip on a pricier bikini, it'll likely feel like your nicest lingerie, rather than the one-piece you rocked in elementary school.
T.L.C. is a must, no matter how much you spend.
"You still need to take care of a quality swimsuit," Zimmermann insists, "but when you do, the difference is really clear." Always hand-wash your pieces and don't even look at the dryer. Ideally, take a dip in the shower before hopping in the water, which allows your suit to absorb fresh water first rather than chlorine or salt.
Photo courtesy of Zimmermann