Winner of the 2010 River Island Gold Prize at Graduate Fashion Week
And the Winner of Graduate Fashion Week 2010 Is...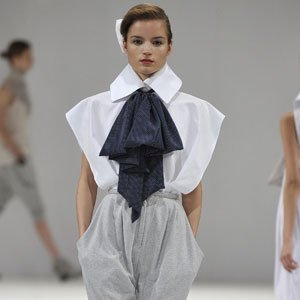 What a busy four days it has been at Earls Court. The 2010 Graduate Fashion Week has shown the potential of 100s of graduates from around the UK and even a few from overseas. This evening, a gala took place at the venue celebrating some of the best young designers and announcing the winner of the River Island Gold Prize.
I am excited to reveal that the winner is Rebecca Thompson from Manchester School of Art. Congratulations! Stay tuned for photos from the gala and party.
To see a full list of winners from the night, just keep reading.
Mulberry Accessories Award: Kitty Keay, Colchester School of Art
Hachette Fillipaachi Media and Design Award: Alice Barnes, Northumbria University
Inspiration Award: Lee Alexander McQueen
Music Award: UCA Epsom
International Award: Roya Hesam, The Amsterdam Fashion Institute
BHM Knitwear Visionary Knitwear Award: Ledina Zhang, Northumbria University

Zandra Rhodes

Catwalk Textiles Award: Anna Lee, De Montford University
Womenswear Award: Rhea Fields, Northbrook College Sussex
Menswear Award: Thomas Crisp, Ravensbourne
River Island Gold Award: Rebecca Thomson, Manchester University School of Art