Would You Wear Heavy Eye Makeup For Spring?
Will You Wear Heavy Eye Makeup For Spring?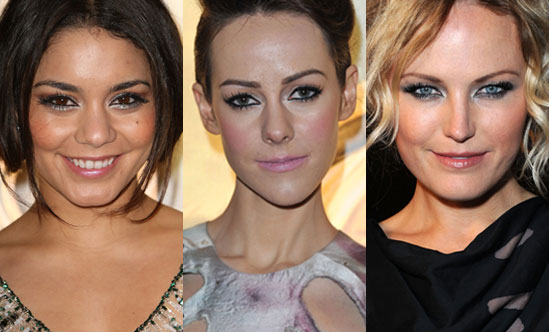 Spring brings many things to the table: warmer days, shorter hemlines, and palette after palette of pastel makeup hues. One thing you don't typically expect to see, however, is intensely dark eye makeup. But if certain stars' recent red carpet appearances are any indication, perhaps we'll be seeing plenty of deep black liner and heavy shadows this season.
This week, Vanessa Hudgens amped it up with coffee-toned shadow, plenty of kohl liner, and metallic sparkle, while Jena Malone went for an ultra-thick application of ebony liner. Malin Akerman also chose a dark black liner, but coupled hers with sparkly silver eye shadow. Intense eye makeup will definitely get you noticed, but is this the kind of look you'd wear right now, or do you prefer more seasonally traditional shades?