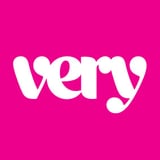 Sometimes dressing well can be a little like doing fashion maths. We've partnered with
Very
to bring you the outfit equations that always earn an A+.
Fashion can be spontaneous and creative, but it can also be formulaic and reliable — and that's not a bad thing. Tried and true outfit combinations are like our bread and butter when we need to get out the door, but still want to put our most stylish foot forward. Just think of it as fashion maths.
This Autumn, we have a handful of foolproof outfit equations we're committing to memory, and we've tapped Kara, POPSUGAR editorial assistant, to show them off. Whether it's a midi skirt and tall boots or a blazer over a slip dress, consider these guidelines rather than exact formulas — there's plenty of room for you to put your own creative spin on these looks. After all, there's no right answer in fashion maths!
One of the most interesting ways you can put together an outfit is to play with proportions. Both of these outfits do just that, either with long layers or short hems. A printed midi shirtdress works on its own, but wearing it half unbuttoned over straight-leg jeans as a sort of makeshift duster top is creative and unexpected — and a smart way to extend your favourite Summer dresses into Autumn. All that's left is adding minimal strappy kitten heels to elevate the look.
Speaking of extending the life of your dresses, we love the idea of transitioning a slip dress to Autumn with the help of a layering piece on top. In the case of this leopard-print minidress, you can highlight the short hem with an oversize blazer in the same length. The juxtaposition of slinky and structured and fun and sharp creates a dynamic pairing. Add flat lace-up boots to toughen up the look.
A chunky
knit cardigan
is an autumnal mainstay and one we often throw on with jeans or leggings. This season, we're excited to contrast the cosiness with something more playful, like a
miniskirt
. While you could pair any cardigan with any miniskirt, we especially like bringing in a bold pattern like must-have leopard print or a warm colour palette — or in this case, both! Extend the warm tones to your feet with matching
ankle boots
!
For those chilly days when you still want to wear a skirt, forgo the tights and reach for tall boots instead. It's one of our favourite layering tricks to employ this time of year, especially since it always looks incredibly put-together with little effort and allows for so much creative styling. For instance, you could mix a pleated faux-leather midi skirt with mock croc boots like we did here or match a silky white slip skirt with white boots.
We couldn't talk about outfit formulas without mentioning the classic knit jumper! Similar to a cardigan, this is a seasonal staple and works with nearly everything in your wardrobe, from jeans to skirts to dresses. This Autumn, we're planning on pairing it with something more modern and trend-forward on bottom, like cropped, wide-leg trousers. Checked trousers are always a smart choice for a bit of pattern play, but you could also opt for corduroy or leather to play up texture instead. Finished with kitten heel mules, this look is pretty and polished.

Credits: Art Director: Meg Konigsburg; Set Designer: Lee Flude; Wardrobe Stylist: Sam Carder + Stephanie Nguyen; Hair and Makeup: Lica Fensom; Producer: Cassie Doyle; Editor: Stephanie Nguyen