Interview With Bridgerton Costume Designer Ellen Mirojnick
Bridgerton's Costume Designer Reveals How Dior and Chanel Inspired a Modern Regency Wardrobe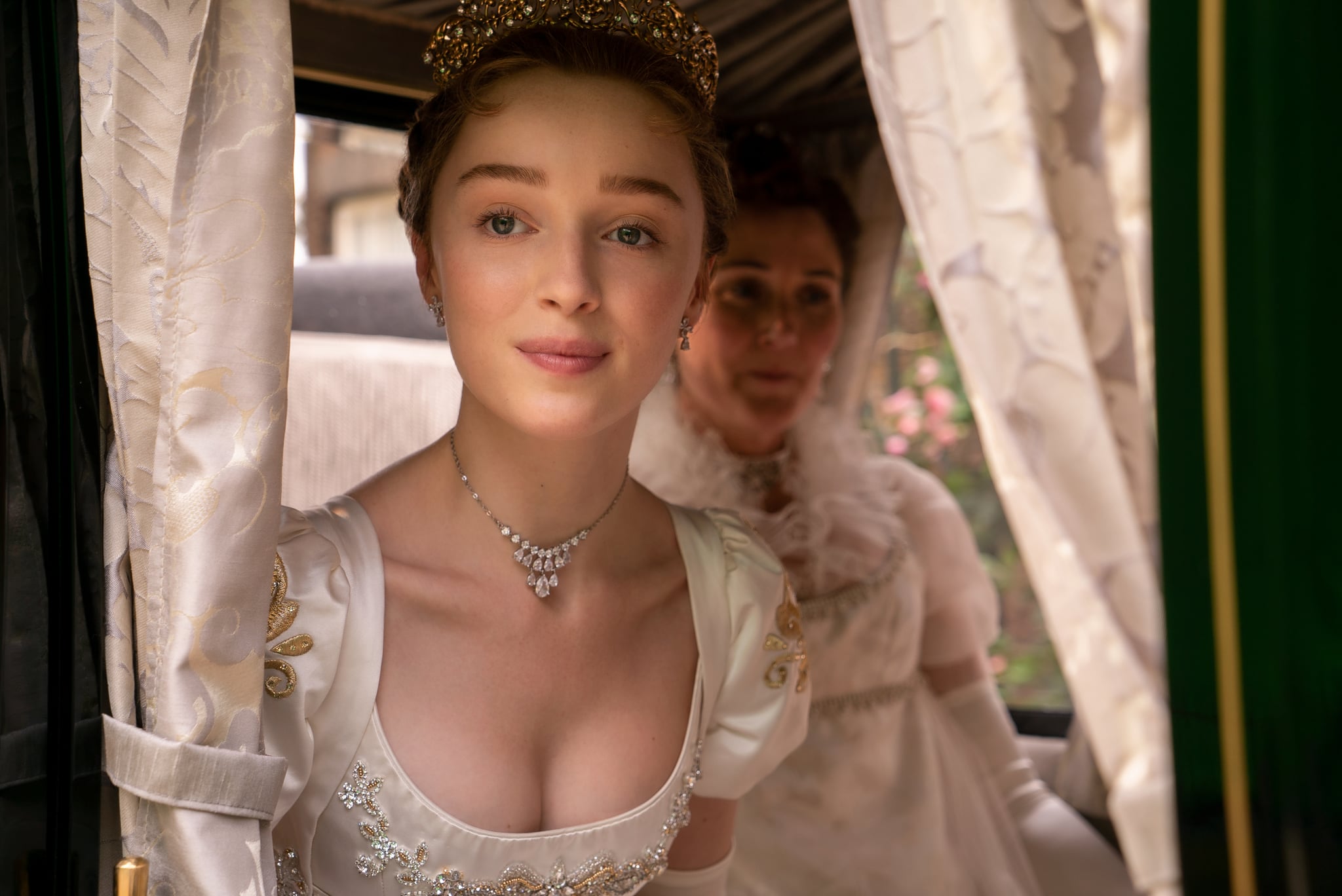 Bridgerton is a visual feast unlike any we've seen before. The decadent Netflix period drama created by Shondaland is based on the first book in the Bridgerton series of romance novels by Julia Quinn, The Duke and I. The costuming, much like the series itself, is a completely fresh take on what you would expect from the Regency era — filled with colour, texture, and scandal — and POPSUGAR spoke to costume designer Ellen Mirojnick about how she created a Regency wardrobe that we wish we could wear today.
"I love Portia's character so much because she's somewhat of a cross between Elizabeth Taylor and Joan Collins in a Regency time that we're making modern."
Mirojnick designed the gorgeous gowns on Bridgerton by layering modern fabrics and colorations over traditional Regency silhouettes. Dresses worn in early 19th-century England featured a square neck, empire waist, and short puff sleeves in a muted palette of creams. For a 21st-century reimagining of the era, Mirojnick emphasised the romance and fantasy of Bridgerton by layering gowns with organza or organdy. The subtle, sheer fabric overlay adds a mysterious element to the costumes and a fluidity that is uniquely modern. Mirojnick and her expansive team also played with vibrant colour palettes and numerous embellishments to create an aspirational wardrobe that would seduce fashion-lovers of today.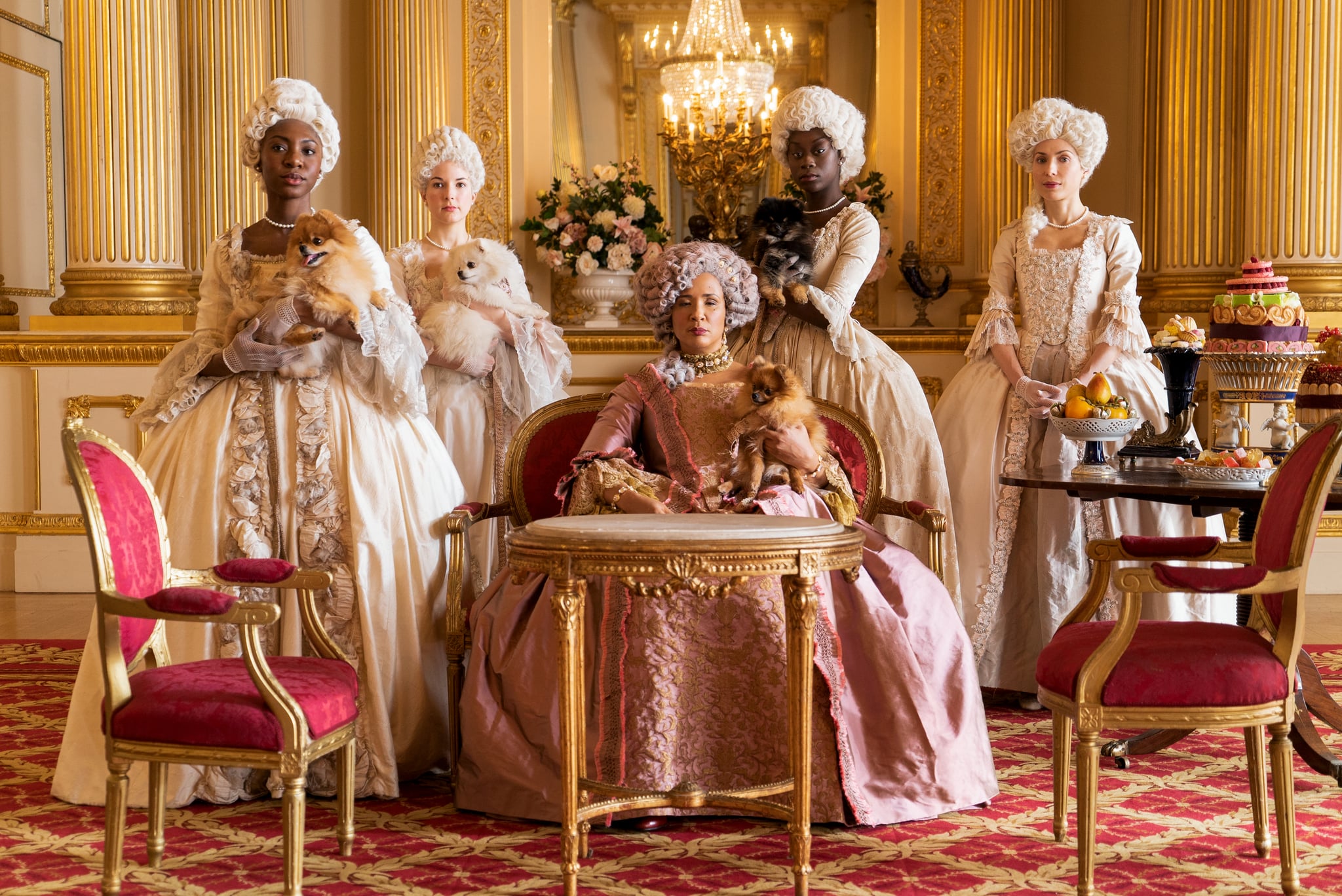 "It's like divine ecology," Mirojnick said of the Bridgerton costume-design mood board, which was covered in cutouts of various types of embroidery, flowers, Wedgewood ceramics, ceiling designs, and fashion moments from the 19th to 21st century. "I look at everything that exists, present time included, and going back decades and decades," she said. Embellishments from Chanel's spring/summer 2017/18 couture collection inspired the series' heavily decorated dresses, and the use of organza layering was in part adapted from Maria Grazia Chiuri's youthful aesthetic for Dior.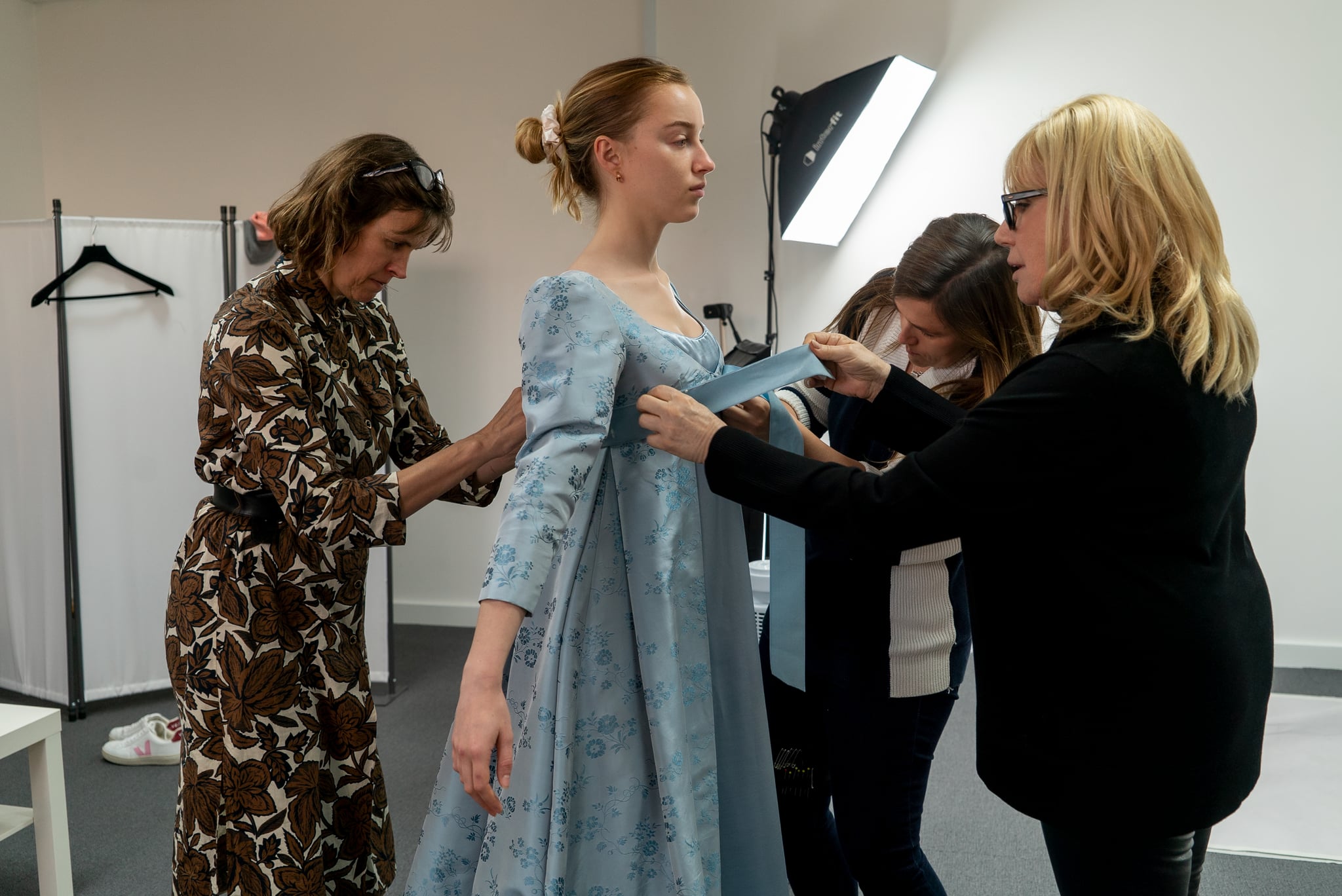 With thousands of original costumes to design and sew within five months, Bridgerton created an entire costume house for the production, and had clothes made and shipped in from Spain, France, Portugal, New York, and Budapest, Hungary. "It was a massive undertaking and quite a great challenge," said Mirojnick. "I'd never built a costume house before, so I'm thrilled that we were able to actually do it and get it to work. All of the principal clothing was made bespokely for each character."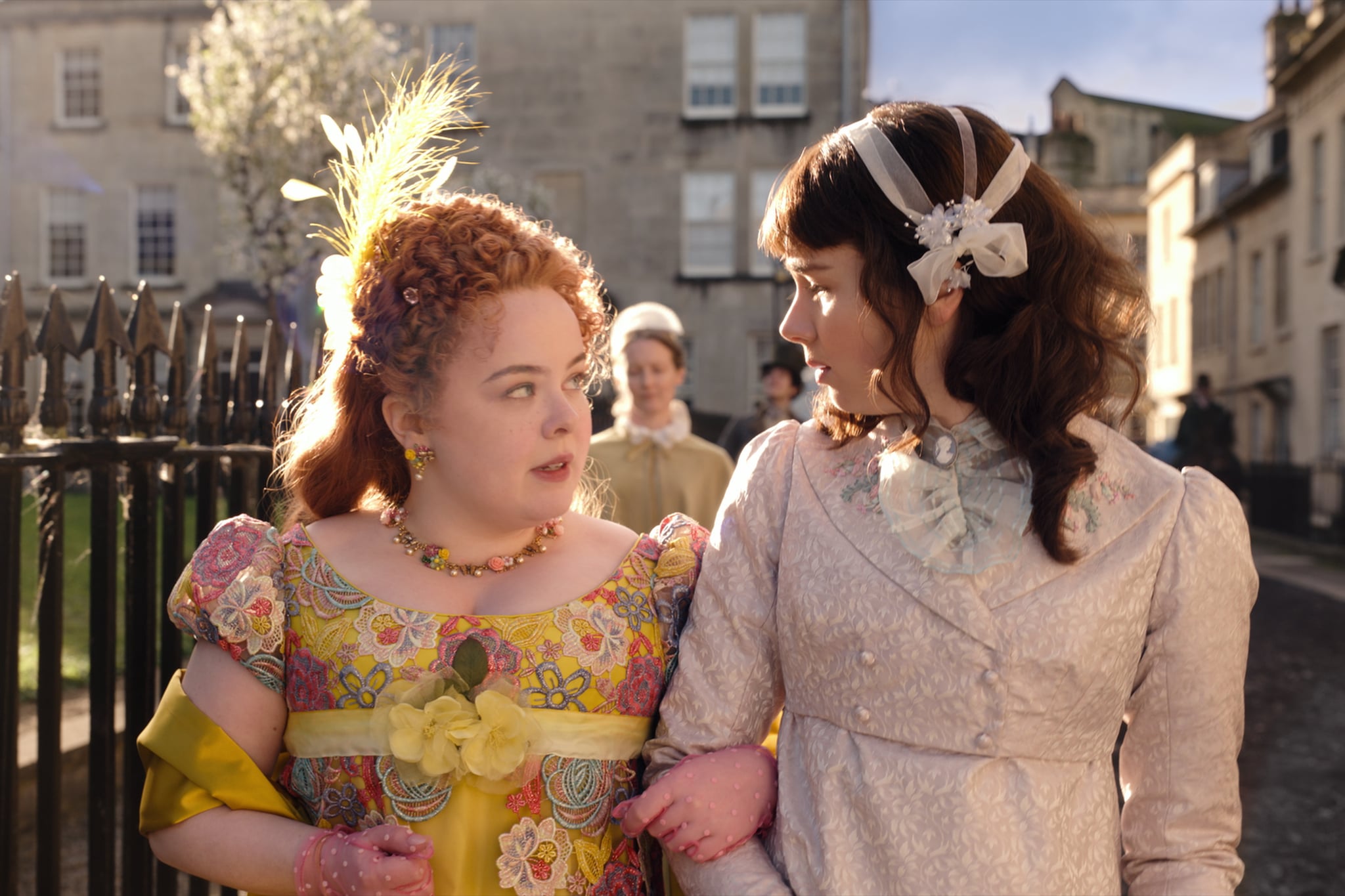 Author Julia Quinn described the two principal families — the Bridgertons and Featheringtons — as having distinctly contrasting styles and approaches to high society. Mirojnick translated Quinn's vision as a simplicity for the Bridgerton family costumes with subtle additions of the bee motif and filigree details; and an ostentatious wardrobe for the "new money" Featherington family with numerous, competing motifs, including feathers, butterflies, and the colour yellow.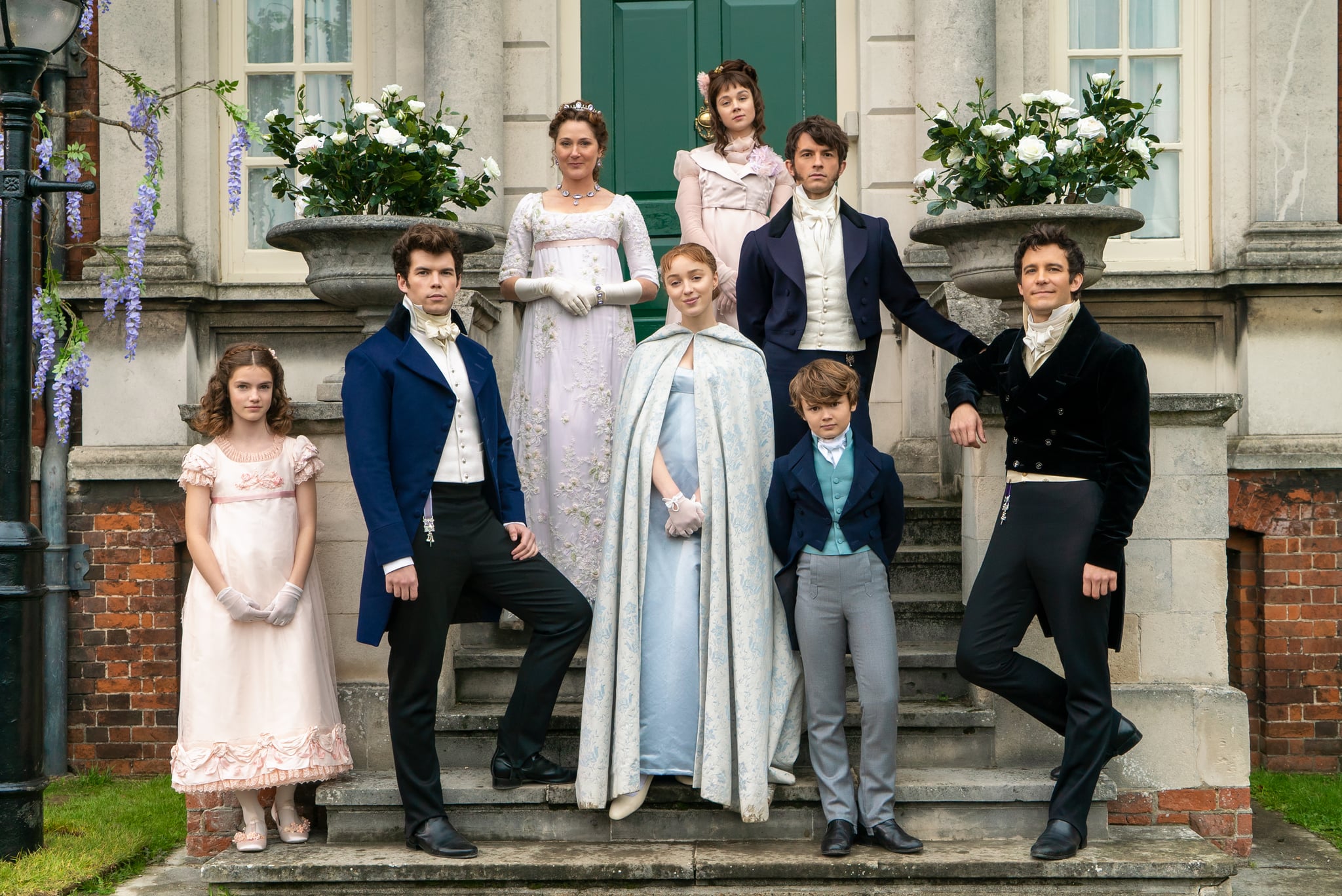 "There is a simplicity to Daphne [Bridgerton] (played by Phoebe Dynevor)," said Mirojnick. "She is the only one that is cleanly simple and elegant. Her accessories are so tiny, so thin, and so perfect. There's just Daphne, she's like a porcelain doll." Daphne's younger sister Eloise (played by Claudia Jessie) is somewhat rebellious and resists the confines of propriety and tradition by preferring her studies to romance and marriage. "I wouldn't say she's a feminist, but I would say she's independent, and she doesn't want to be decorated," Mirojnick added. "She's very buttoned up, so you will always have a little tissue that has a button-up, a little bit of a masculine-shirt type of filler, whether it be in shadow stripes or a little ruffle, but very, very simple in a plain masculine way. Her outside jackets are also taken from a man's cutaway. We made a jacket that was very much a different silhouette than any of the other girls."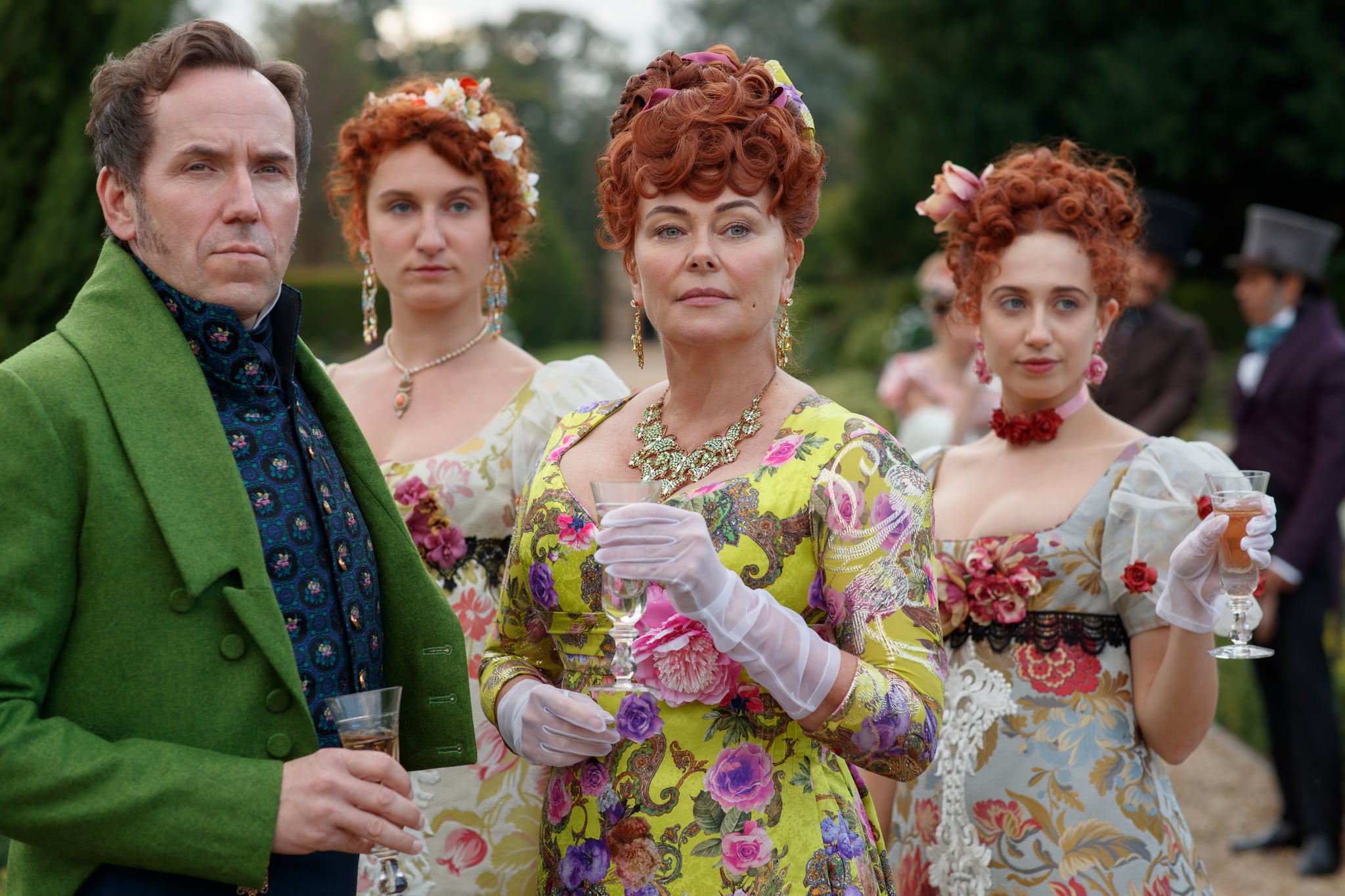 "And then of course, there's the Featheringtons — the more, the better. We do a lot of feathers, we do a lot of flowers, a lot of jewels, and a lot of layering of different things all together. We embellished the fabrics that existed, and layer things, and put ruffles on them, and put ribbons on them, and put bows, anything. The sky's the limit. It really is. But those motifs are very big. They're bright, they're bold, they're brazen, and colorful."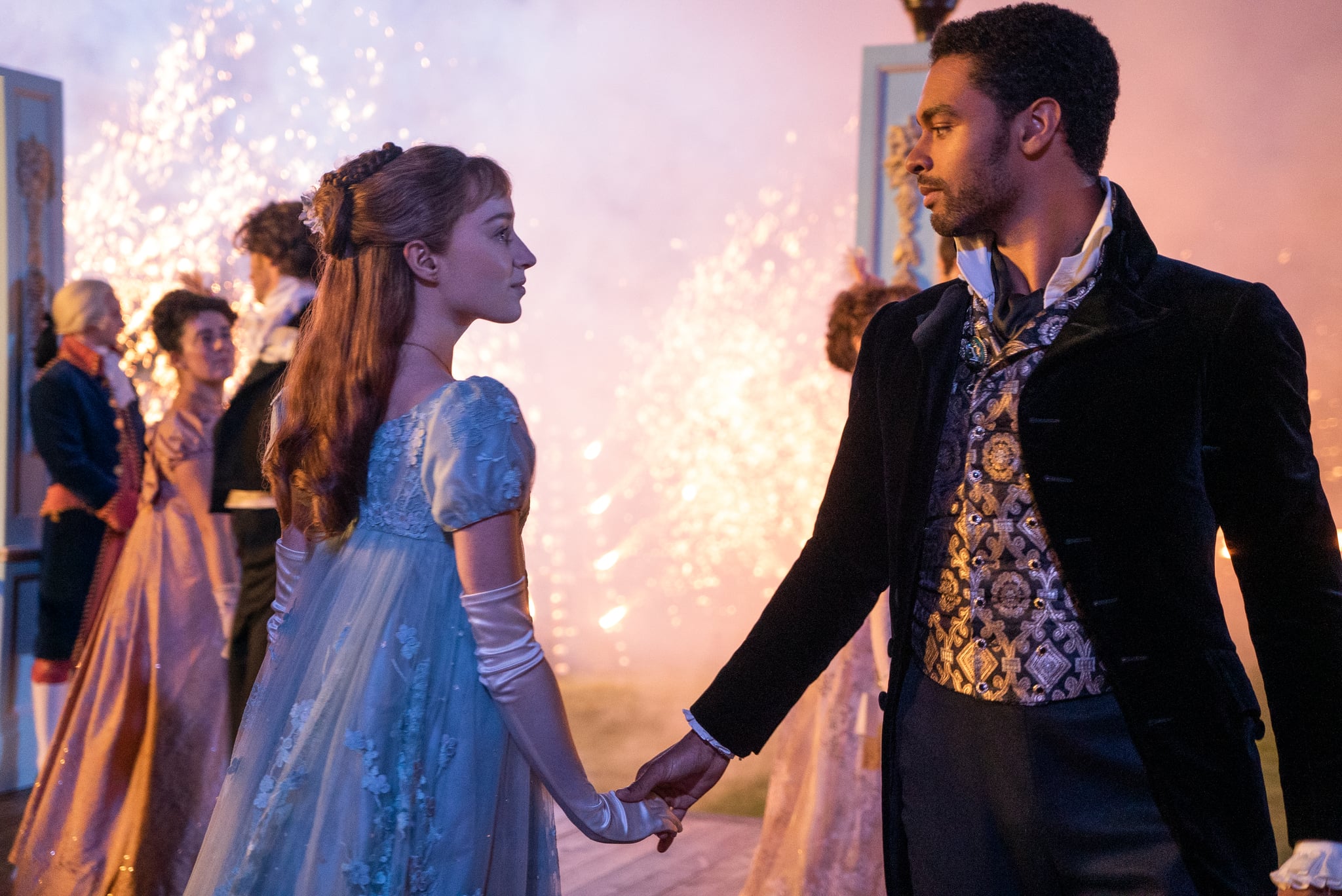 Despite the elegant wardrobe of the Bridgertons, it was actually Portia Featherington and her daughters that Mirojnick got most excited to design for. "I love Portia's character and I love the daughters," she said. "But I love Portia's character so much because she's somewhat of a cross between Elizabeth Taylor and Joan Collins in a Regency time that we're making modern. It's kind of mixed up, but she's bold, and brazen, and hopeful, and wants so much, and it's all new money, and it's all out there, and she dresses those girls like, "Look at me," when it's quite opposite of what they really should be. But the girls look like so much fun, and I actually, really, I love the whole Featherington family, they were just delightful to do. I will say this . . . I think that one of my favorite characters to design is Regé's (who plays Simon Basset). He's sexy, and he really is a true romantic hero. He is the master romance novel lead character that comes riding into town. I just think he's the cat's meow."
Catch all the gorgeous gossip on Bridgteron, which premieres on 25 Dec, exclusively on Netflix.