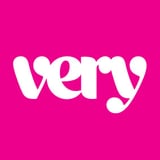 It's always impressive when you can find multiple ways to wear one piece. We've partnered with
Very
to show you how to get creative with the must-have dress of the season.
When it comes to putting together outfits, most bloggers aren't particularly known for repeating pieces. After all, their job depends largely on creating fresh content frequently, and often, the more new and noteworthy something is, the more double-taps it garners. But for lifestyle blogger Monica Welburn-Leggett of The Elgin Avenue, there's something refreshing and relatable about highlighting versatility, rather than dismissing it.
"I focus on items which I know will have true longevity," she said. "I'm always restyling things around me — you can style a good piece a hundred ways (or near about!)."
This mindset was part of the reason she was inspired to start her blog in the first place eight years ago. "The Elgin Avenue is an approachable corner of the internet," she noted. And perhaps nothing is more approachable than getting creative with things you already have. Whether she's reshuffling the cushions on her sofa or rewearing a dress multiple ways, Monica's become an expert in making something not so new look new again. This season, she's got her eye on one piece in particular: a printed Topshop midi dress from Very. Ahead, see her genius styling tips and get inspired to consider your own wardrobe with new eyes and fresh styling ideas.
Monica was drawn to this particular dress in the first place for its transitional possibilities. "I love this style of dress! It's so versatile," she said. "The longer length and modest sleeves mean that it transitions so well from day to night and office to drinks."
To sharpen the dress up for an evening out, she likes teaming it with sophisticated and polished pieces, like a blazer and strappy sandals. "This is an absolute fail-safe look for me," Monica said. "A midi dress, topped with an elegant blazer and sassy accessories — it'll work for a meeting or dinner, and often I go from one to the other."
For more of an effortless vibe, Monica goes for a slouchy cardigan and fluffy scarf layered over the dress to add softness and texture to the mix. "It's dressy, but with cool-girl flair," she explained. "I'd wear this to a friend's party, on a date — this outfit can work for so many occasions!" Don't forget to experiment with how you style the cardigan (open, buttoned, draped around your shoulders) as a quick and easy way to change up the look.
Since the dress is nipped at the waist, it's the ideal silhouette to transform into a skirt with the help of something cropped on top, like a jumper or t-shirt. For a comfy-casual look to wear in her downtime, Monica likes throwing on a boxy jumper. "To me, this is the epitome of cosy, but stylish," she shared. "This look works for shopping and pottering on the weekend, or to brunch with friends."
Credits: Photographer: Monica Welburn-Leggett