Why Faux and Vegan Leather Is Becoming So Fashionable
Faux and Fabulous: Why Pleather Is Getting Better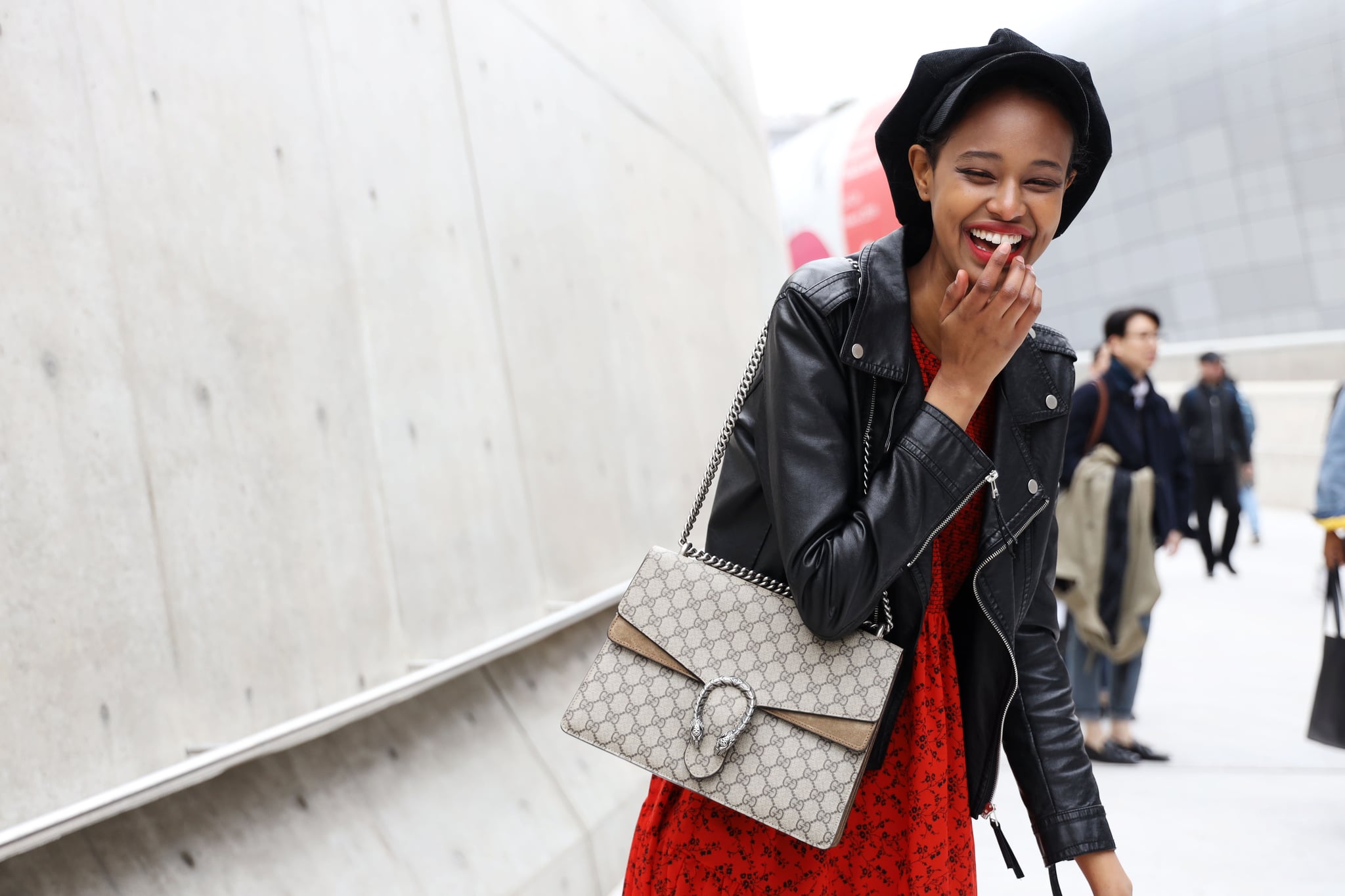 Even having grown up in the '90s, until recently, I still would have turned my nose up at pleather. That one little letter before the actual "leather" part seemed to carry more weight than the rest of the seven that followed because, let's be honest, it was glorified plastic. Pleather not only felt synthetic, but it smelledsynthetic. Not to mention that, if you wore any piece of clothing crafted from the material, you would be heard approaching from a mile away. And no matter how many times the likes of the Spice Girls rocked those pleather knee-high boots and mini dresses, my adolescent style-lover self just still couldn't ever manage to give the looks a thumbs-up.
At the time, I thought that faux leather or fur was simply a more affordable way to get the high-fashion luxe look you might not want to drop hundreds—or even thousands—of pounds on. Today, however, I look at it from a point of sustainability (and it's decidedly not always the most affordable option on the shelf anyway). What's more, it seems the rest of the world is doing the same. And designers are responding. Now, faux or vegan options of the cosiest of shearlings, fur, and leather, are all being sourced in more sustainable ways, available in a wider range of options, and feel nearly identical to the real thing.
There are many designers who have sustainability built into their DNA, like Stella McCartney, and others who have made promises in the last two years to replace their existing furs with faux, like Gucci, Burberry, Net-a-Porter, and more. But no matter what side of the bottom line high fashion designers and major mass retailers stand, the conversation is an ongoing one. Journalist Dana Thomas (of The Washington Post, Newsweek in Paris, T: The New York Times Style Magazine, and more) just published a book on sustainability in fashion called Fashionopolis: The Price of Fast Fashion and the Future of Clothes, a deep dive into not only how we have managed to dig our global culture into horrific practices industry-wide up until now, but also how we are making moves to halt the further detriment to our planet.
There are, to be sure, many versions of attention to sustainability when it comes to faux fur, leather, and shearling in fashion. Interestingly enough, unless you're a no-questions-asked vegan, many seem to hold leather and fur in differing levels of regard which, of course, makes no sense at all. I have witnessed individuals not only renounce their shopping for fur, while standing before me in a leather jacket and carrying a suede bag which are both, of course, the same thing when you get right down to it. Further, whether right or wrong, brands like Coach have made statements against using fur in future collections but continue to produce 100 percent lambswool shearling because it's collected in a more humane manner. When speaking to New York Magazine on the subject, Christina Sewell, a representative for PETA, suggests "Everyone wears leather shoes, leather jackets. But when you're thinking about a fur garment it's something you'd think of your grandmother wearing." That dissonance can account for part of why leather hasn't come under the same amount of scrutiny as fur." Though she brings to everyone's attention that "Fur is just leather with more fuzziness attached to it."
Further, some have made the argument that faux leather is actually worse for the environment than the animal product itself, as it's created from synthetic materials that don't break down when disposed of. In an interview with Vogue, however, longtime vegan fashion designer Stella McCartney disputes that claim saying, "Quite frankly, that's rubbish. An animal decomposes when it's natural, but after all of the chemical treatments [applied] to a leather handbag, it isn't going to decompose in your wardrobe." She adds, "That product is staying alive because of the chemicals that have been put on it — because if you just had a dead animal in your closet, it would be a different situation." What's more, in that same conversation, she points out that there are so many more issues of general sustainability when it comes to producing leather that don't have to exist when it comes to more technologically advanced processes of creating the synthetic version of the same. "People really don't want to talk about the fact that the fashion industry's biggest impact is its use of leather," she shared. "The animals it kills, the toxins, the chemicals, the cutting down of rain forests, the food and water and electricity it takes to make a leather bag . . . It's way more than a synthetic bag. [And] a fur coat has a much higher impact on the environment than a fake-fur one for many, many reasons."
Data source Edited tracked vegan trends by country, flagging the UK, United States, and Germany as ones that seem to be making the largest investments in veganism across the board. In January 2019 along, there was a 41 percent decline of fur in the luxury markets in the UK. And, in the United States, vegan footwear's place in the market more than doubled from 16 percent to 32 percent over the last year. For a full list of PETA-approved vegan brands, check out its constantly updated list on its website.
While the most classic leather alternative is PVC, or plastic (hence the colloquial term "pleather" . . . ), the world of tech is coming to the fashion industry's rescue with countless alternatives that are made from everything from Frumat's apple leather (from waste processing apples in Italy) to Piñatex's option that comes from a similar pineapple leaf waste. Another much-discussed alternative is from Natural Fibre Welding, called, Mirum, which is created from cork, hemp, coconut, and vegetable oil in Illinois. The latter is the highest ranked in terms of overall sustainability so, while products are expected to be released with Mirum as soon as the Autumn, its longevity has yet to be seen.
Often categorised as a "trend," attention towards sustainability is on a steady up-swing, especially when it comes to the world of fashion and, in my opinion, is the furthest thing from a trend that we could debate, as its very clear that it's more of an industry shift and long-term changing of the tides. Retail was, perhaps, one of the biggest culprits in the historical plummet up until now, so it's a long road ahead, to be sure. But the debate alone raises awareness and awareness modifies priorities. And the modification of priorities consumer-base-wide — of course — has the power to change the direction of the movement for generations to come.