Kitri's Haeni Kim on Building a Digital-First Fashion Brand
Kitri Founder Haeni Kim Is Building a Digital-First Fashion Brand With Sustainability in Mind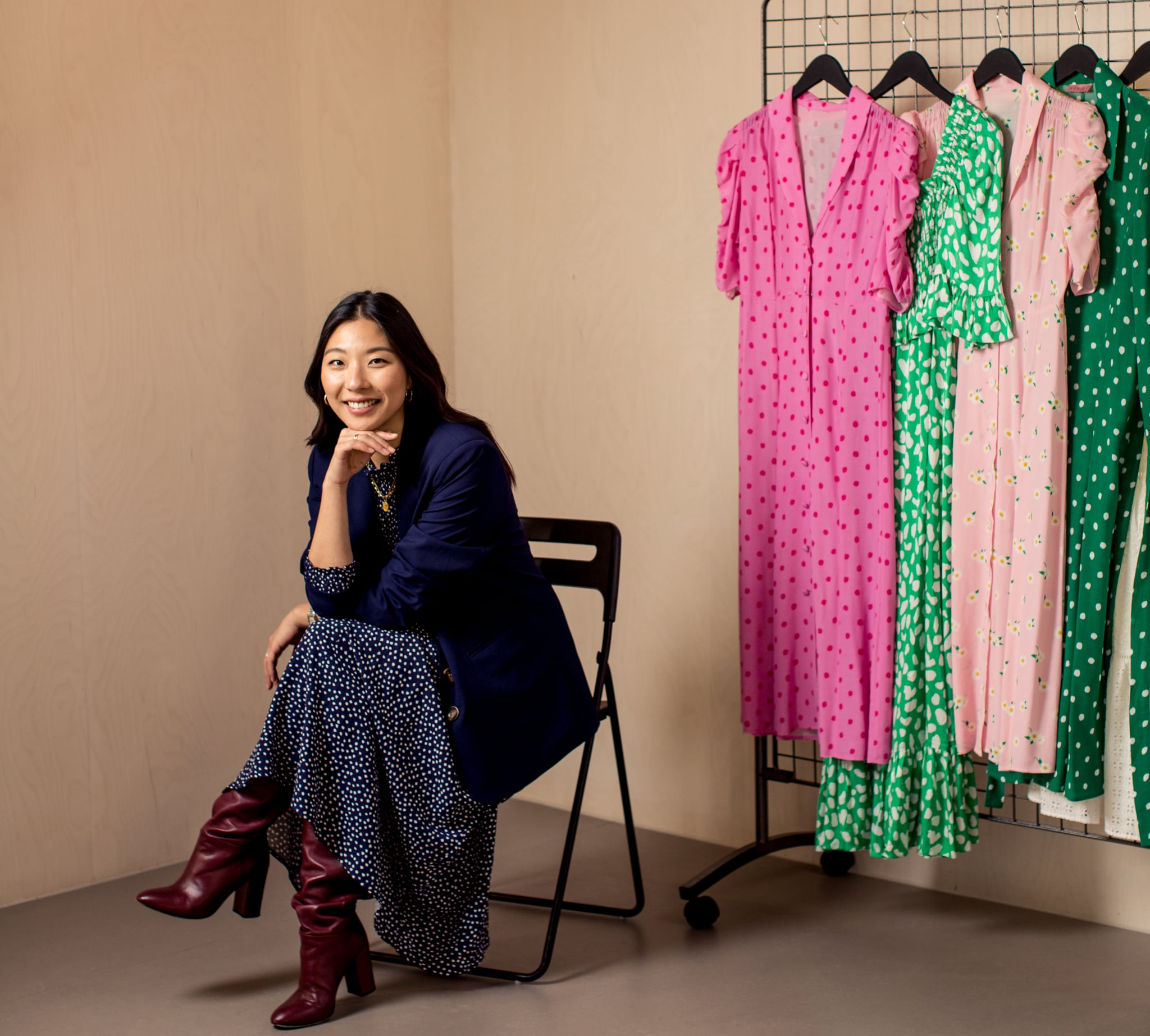 Image Source: Sophia Spring
London-based clothing brand Kitri attracts a playful clientele. Known for colourful dresses, outerwear, and knits, the brand counts textile designers, cocktail enthusiasts, and style bloggers as #KITRIgirls. The hashtag trends on Instagram, tagged to the outfits of fashionable women sharing how they wear the brand. But what does it mean to be a Kitri girl? Founder Haeni Kim told POPSUGAR about the community that inspires Kitri and how she is creating a digital-first brand with sustainability in mind.
Kim's idea for Kitri came from a relatable fashion dilemma. Working hard as a 20-something woman in the city, she needed a little pick-me-up and decided to treat herself. But after searching for a nice piece of clothing to add to her wardrobe, she wasn't able to find anything that fit both her budget and her lifestyle. "The price points at department stores were a bit too high for me at the time; I was in my mid to late 20s. I also didn't want to go to fast fashion because I loved good-quality, original fashion, and I felt like I couldn't really find that on the high street," Kim told us. "It can also be so ubiquitous, right? You go to a fast-fashion brand, and you all gravitate towards the same thing. They produce millions and millions of those units, and you're inevitably going to turn up at a party wearing the same thing as a friend."
"I started asking my friends. I'd say, 'Where do you guys shop?' Because we were all working in creative industries at the time. Interiors, fashion, magazines, marketing, advertising; we were all young creative professionals living in urban areas. And none of them could give me one brand with confidence that they, 'This, oh my God, you should go here.' So that was a moment for me, having had both high-end and value-driven market experience and extensive travel across Europe and Asia, that maybe I could bridge that gap between high-end and high-street pieces with original designs. Trying to find a balance between those, and designing something very confident and playful for creative professionals who are looking to buy something special without breaking the bank."
Image Source: Kitri
It's no secret that fashion is inherently unsustainable. Offering good-quality clothing at an accessible price point is extremely challenging, especially for a digital-first and trend-driven brand. When Kitri first launched in 2017, Kim and her team were thinking how best to serve the Kitri girl's budget and lifestyle while minimising the brand's carbon footprint. "It was just the beginning stages of everybody's minds being open and keeping sustainability at the forefront of everybody's thoughts," she said.
"We decided that our model was going to be predominantly very limited quantities of the styles that we create, and once it sells out, we only open the production up to measured demand so that we don't overproduce. My background is in both high end and luxury, as well as the value-driven model, which is predominantly just kind of a volume game, right? So you produce lots and lots and lots of, tens of thousands of the same garment, that's how you can actually reduce costs and sell at lower prices, while also compromising on quality, ethical practices, and all that can of worms."
"I didn't understand how they would see a fashion item could sell into millions and millions of units per season, and the amount that you're producing, the amount that was going into markdown, and the amount that was getting discarded was really, really horrifying. That was the beginning stages of conceiving Kitri. We wanted to make sure that we balanced newness and what we think is playful with something that you can wear for a while, and without overproducing and flooding the market like a lot of fast-fashion brands. Going forward, we're firm believers in buying better and wearing more. Making sure that you only buy things that you love and that you will cherish for a long time, and looking after your garments well so that you can wear them again and again."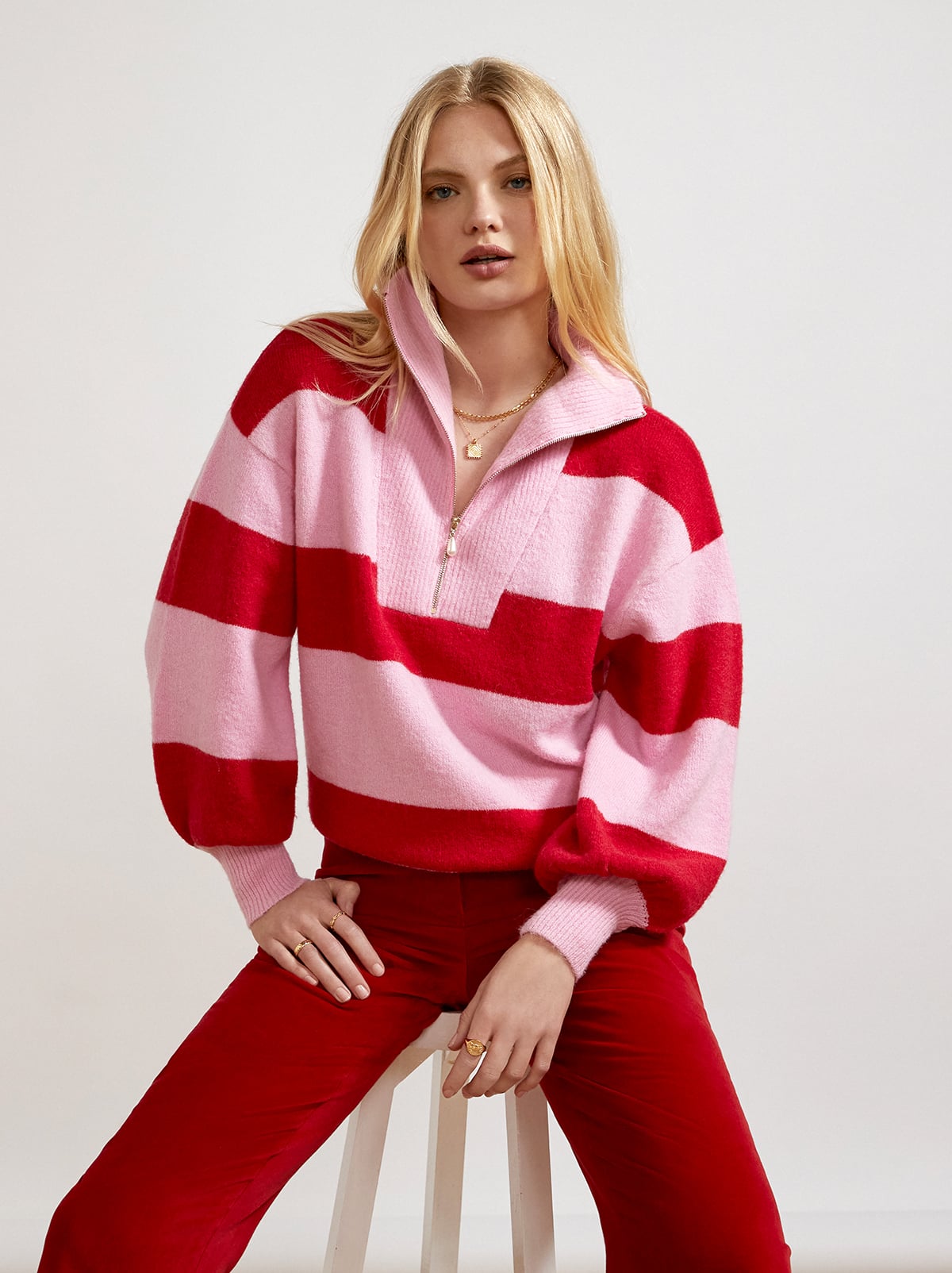 Image Source: Kitri
When we buy clothing we truly love, we take better care of our garments, clothes have a longer life in our wardrobes, and we are saving textiles from ending up in landfill. As a commitment to looking after our clothes, Kim revealed that Kitri is partnering with a garment aftercare company for a care, repair, and upcycling program with more details to come. "That makes the most sense for garments that you love," Kim said. "You have such an emotional connection with the clothes you decide to buy, and it would be so horrible to just discard them after you wear them. So we're going more into the aftercare of our garments."
Demonstrating to shoppers that circular fashion can (and should) be important to high-street brands is a positive step towards addressing a broken fashion system. Clothing aftercare is a crucial and missing part of the fashion industry and an ambitious upcoming project for Kitri. But before then, poly bags are Kim's next big target. "Because we're predominantly an ecommerce brand, the packaging for protecting our garment until it gets in our customers' hands is very, very important," she explained.
"We were one of the first to go into recyclable, compostable paper bags for our packaging, and we were really happy with that. But the next stage we've been looking at is to find a sustainable and responsible alternative to the actual poly bags in which we are protecting our garment whilst it travels. That is a big challenge for us. And we're exploring many different options, and hopefully technology will catch up with what we're wanting to achieve. There are very exciting things coming out of that industry right now. We're testing lots of different things, and hopefully we can eliminate as many polyethylene bags as possible so that we don't contribute to that waste, but we're currently recycling our bags. So it's a big journey for sure."
When reflecting on her own journey so far, Kim suggested making mistakes and not waiting for the moment you think something is perfect. "Just go for it, make mistakes, and make them quick," she said. "In the beginning when you start off, nobody's expecting anything perfect, and it shouldn't be. It's very rare that it is. But if you wait and if you just stew, I think you don't learn. Someone told me once, you've got to make mistakes quickly, learn quickly, and grow quickly. You're going to make mistakes anyway, you might as well make them quickly, and get better quicker. That's basically what it is. And you have to keep going."