London Fashion Week Spring/Summer 2021 Fashion Trends
London Fashion Week Was Equal Parts Inspiring and Disappointing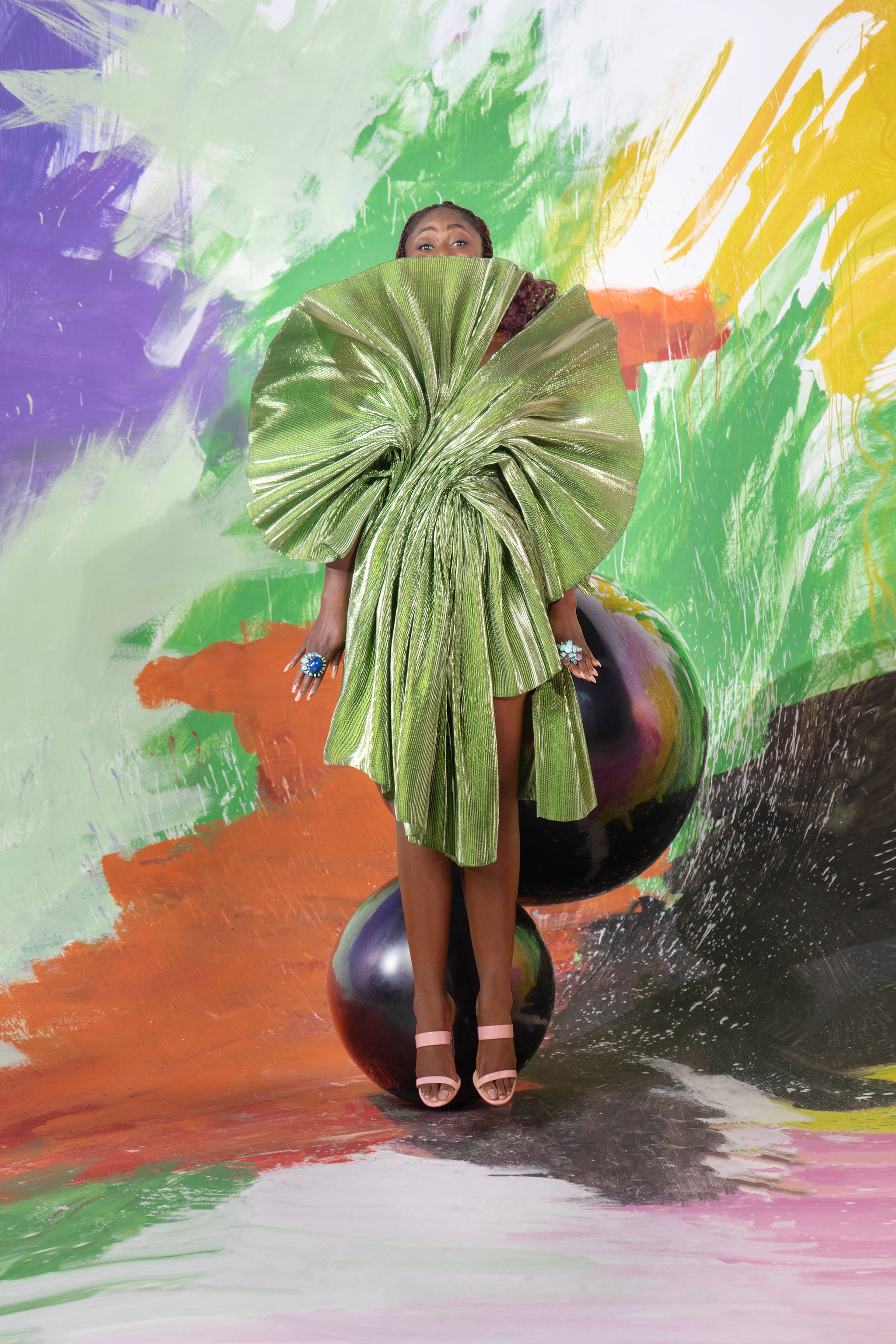 Halpern SS21
London Fashion Week looked very different this season, and in a way it also looked the same. As we move deeper into the digital era, and wrestle with the social ills of our times, some fashion brands stepped up to the plate, while others were expectedly tone-deaf. The trends that we'll be seeing in spring and summer 2021 are always at the centre of the conversation, but this season, we're also exploring how digital limitations and social expectations are creating a greater demand for narrative and vision.
Digital Fashion Week is shifting our focus from how the clothes look and who will be wearing them, to what the clothes mean and who will be making them.
London Fashion Week being forced to go fully digital was a new challenge for designers. The virtual experience takes away a lot of the texture and energy of a buzzy fashion show, but as Victoria Beckham put it, "limitations can be liberating". Digital Fashion Week was more liberating than it was restrictive because it cut out a lot of the distractions — in the form of pretentiousness, exclusivity, and the carbon footprint of fashion shows — and shifted our focus from how the clothes look and who will be wearing them, to what the clothes mean and who will be making them. The fashion industry, and the wider world, is longing for a rebirth that is beginning with a questioning of our shared values and a disruption of "business as usual" — otherwise known as capitalism.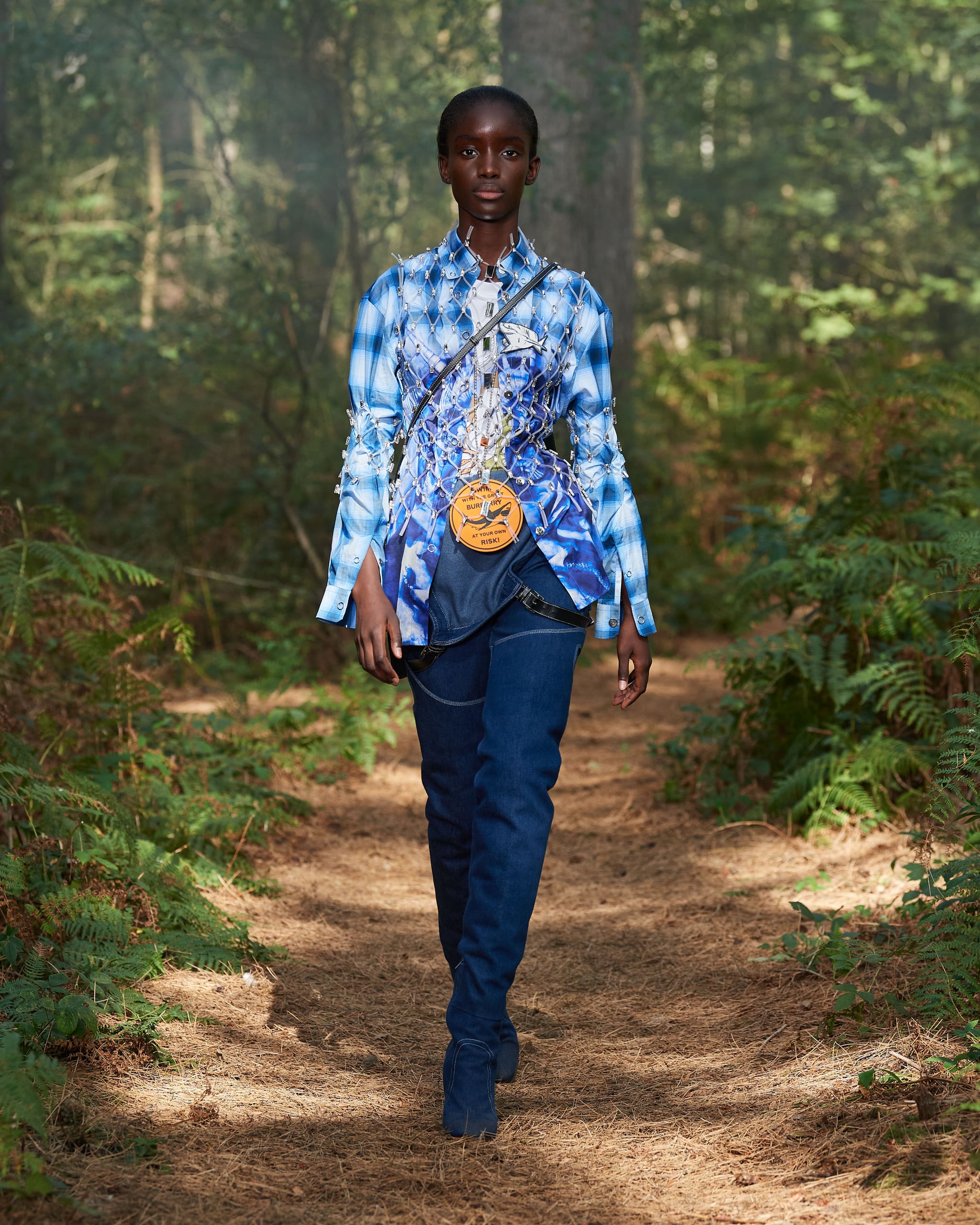 Burberry SS21
Blue Waters
The trends that are worth keeping an eye on for SS21 reflect the new normal of radical inclusivity, diversity of perspective, and a renewed respect for the natural world. Water was the main theme for London Fashion Week. Brands like Burberry, RIXO, 16Arlington, Emilia Wickstead, and Osman Yousefzada used water, the sea, and nautical motifs to represent healing, cycles of life, and rebirth. Burberry's collection featured cobalt blues and mermaid and lighthouse motifs; Rixo also focused on mermaids and seashells. The designers for 16Arlington said in a press statement that they "were compelled to explore the powerful and spiritual allure of the ocean," whereas designs from Emilia Wickstead featured sailboat motifs, and Osman Yousefzada showed cobalt-blue tie-dye pieces while presenting anticolonial and anticapitalist narratives against a soothing backdrop of the ocean.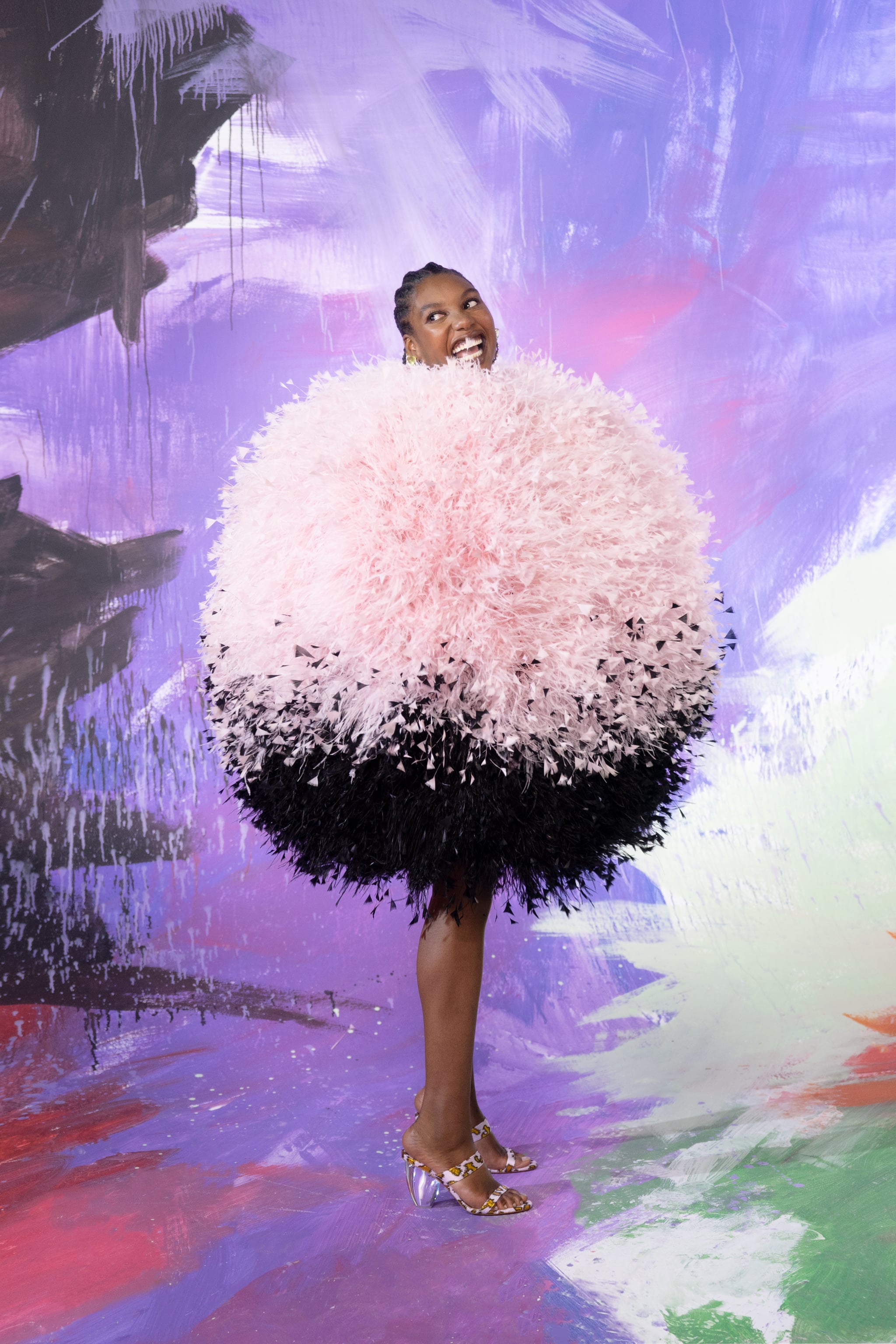 Halpern SS21
Anticapitalist Narratives
It was disappointing but unsurprising that a handful of brands decided to stick with white-supremacist agendas by having all-white model lineups, or casting a token person of colour that was visibly mixed with white — but all is not lost for a better future. The luxury houses that used their platforms to showcase marginalised stories and a diversity of perspective were superior in design, relevancy, and impact.
Michael Halpern explored the new normal in such an elegant way. The designer dressed our "heroines of the front line" in decadent pieces from Halpern's SS21 collection, and encouraged these women to tell their stories. Women of diverse ethnic backgrounds, ages, and body types shared their experiences of working in hospitals and as public transport drivers during the pandemic. Our essential workers spoke of their lives and their work while wearing colourful feathers, animal-print gowns, and voluminous silk dresses. Bethany Williams's collection focused on the stories of Black British children, the idea of a village raising a child, and what that means for working class communities of colour. Osman Yousefzada challenged capitalism's exploitation of BIPOC and their unique cultural traditions. Marques'Almeida's presentation was "dedicated to the makers, processes, and values that advocate to a more transparent fashion industry", and Feng Cheng Wang focused on community, equality, and deconstructing ideas of "Blackness" and "Whiteness".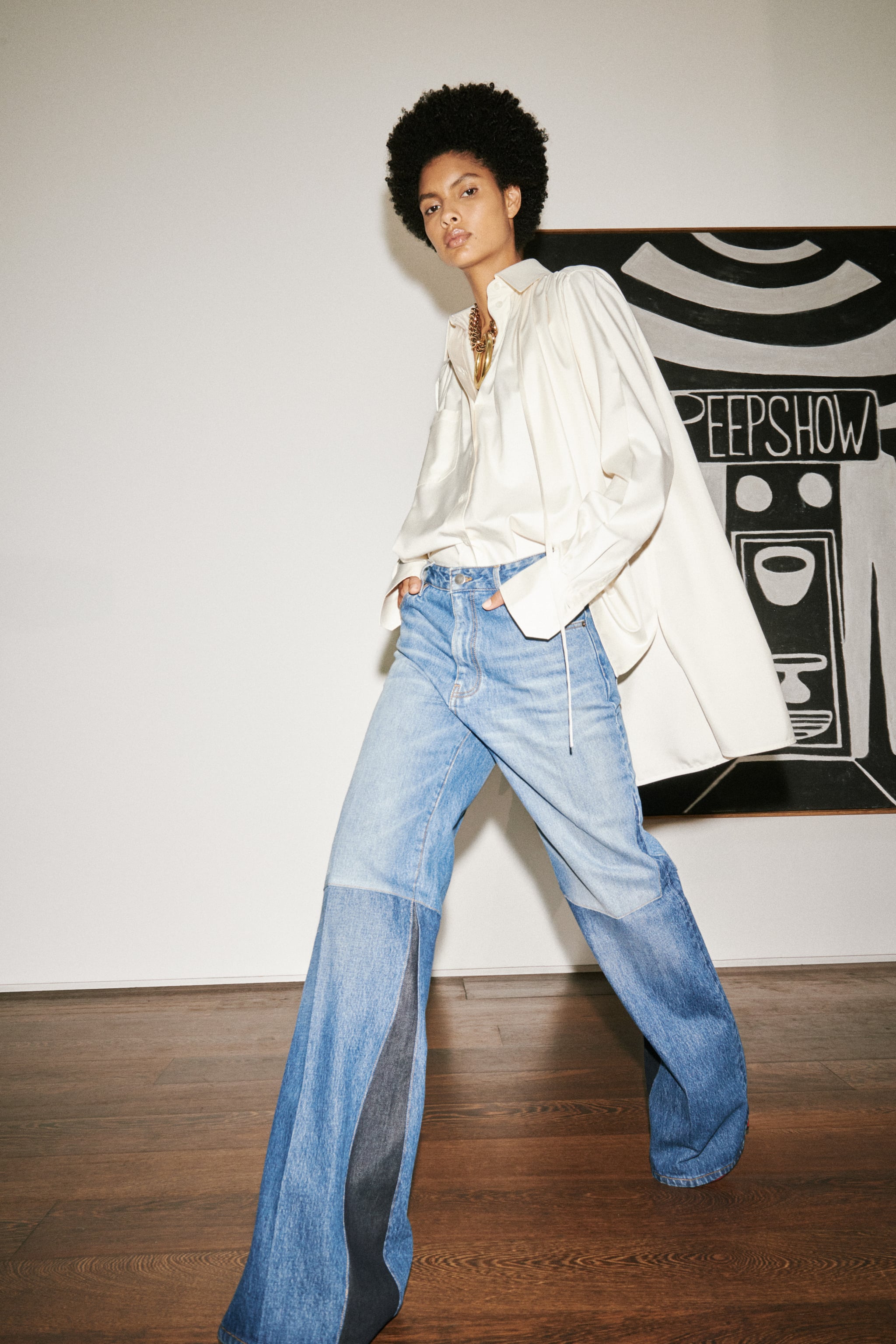 Victoria Beckham SS21
Patchwork Pieces
It was refreshing to see one of Instagram's favourite fashion trends — patchwork — featured so heavily at London Fashion Week. The allure of colourful patchwork is that it is so strikingly reconstructed from offcut and discarded fabrics. It is a true embodiment of a sustainable fabric, and retains a radical individuality because no two pieces are ever made the same. Bethany Williams, Richard Malone, and Liam Hodges did this trend justice at London Fashion Week. Bethany Williams 2021 designs featured corsets, cardigans, tracksuits, and dresses embroidered with the patchwork faces and scenes of people of colour. Richard Malone explored this trend with patchwork paneling on trench coats, and Liam Hodges reiterated his AW20 vision with colourful patchwork knits. A more subtle approach to patchwork was seen with Roksanda's two-tone jackets and dresses, and Victoria Beckham's two-tone denim.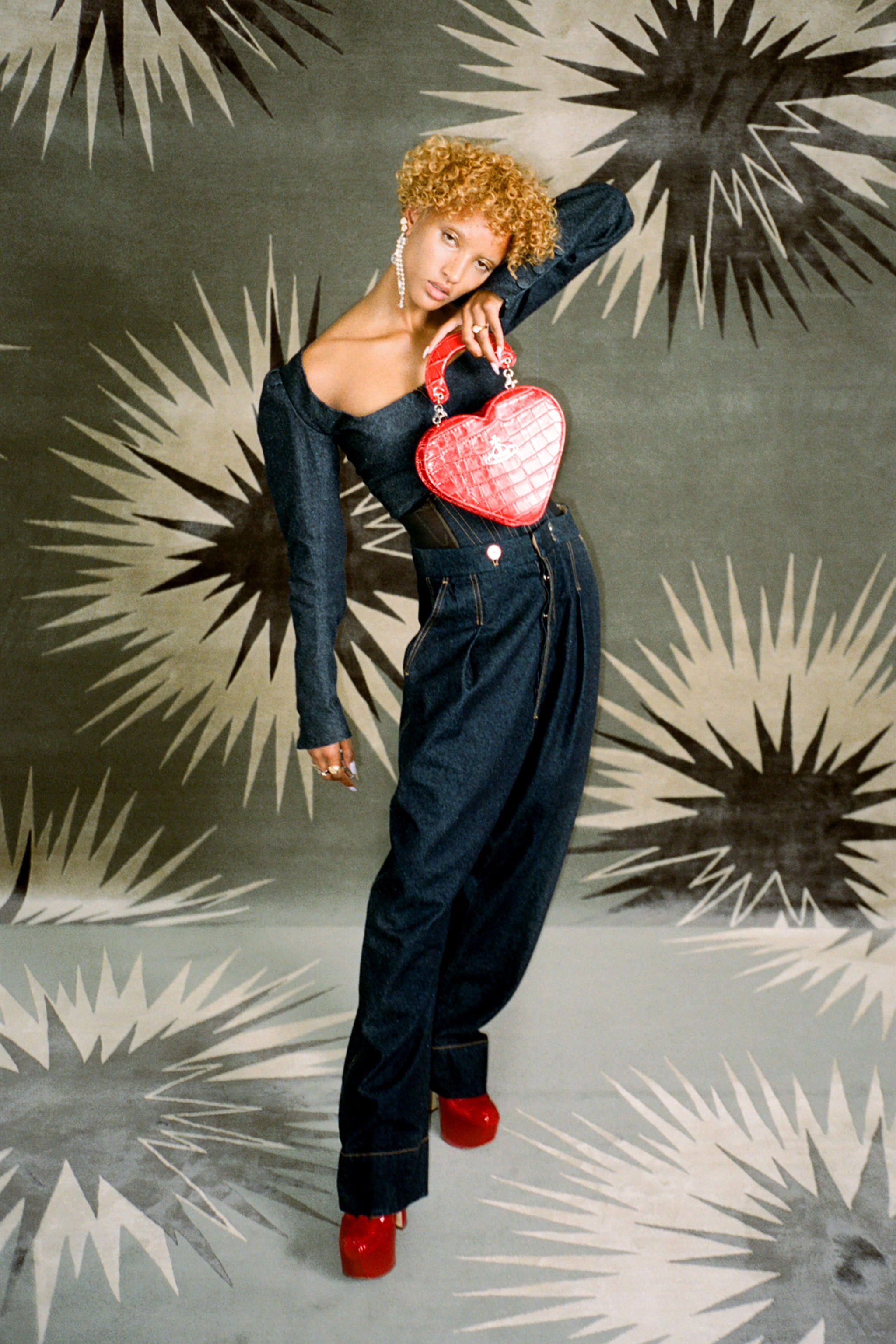 Vivienne Westwood SS21
Sustainable Denim
Denim was a surprising choice of fabric across many LFW SS21 collections. Countless designers gave a unique interpretation of the controversial material that, despite its durability, requires around 10,000 litres of water to make enough material for a single pair of jeans. We admired designers like Vivienne Westwood who used recycled denim, and Charlotte Knowles who is committed to ethical production practices, while Bethany Williams and Victoria Beckham offered fresh takes on the sturdy cotton textile. Charlotte Knowles offered denim jackets and skirts in earthy shades of brown. Victoria Beckham used denim for the first time in her SS21 collection by giving us a flared pair of '70s-inspired jeans with two-tone light-wash details. Bethany Williams's take on denim was coordinated indigo sets with colourful patchwork details. Vivienne Westwood chose to interpret denim as indigo corsets, loose-fitting jeans, jackets, and sets in colourful geometric prints.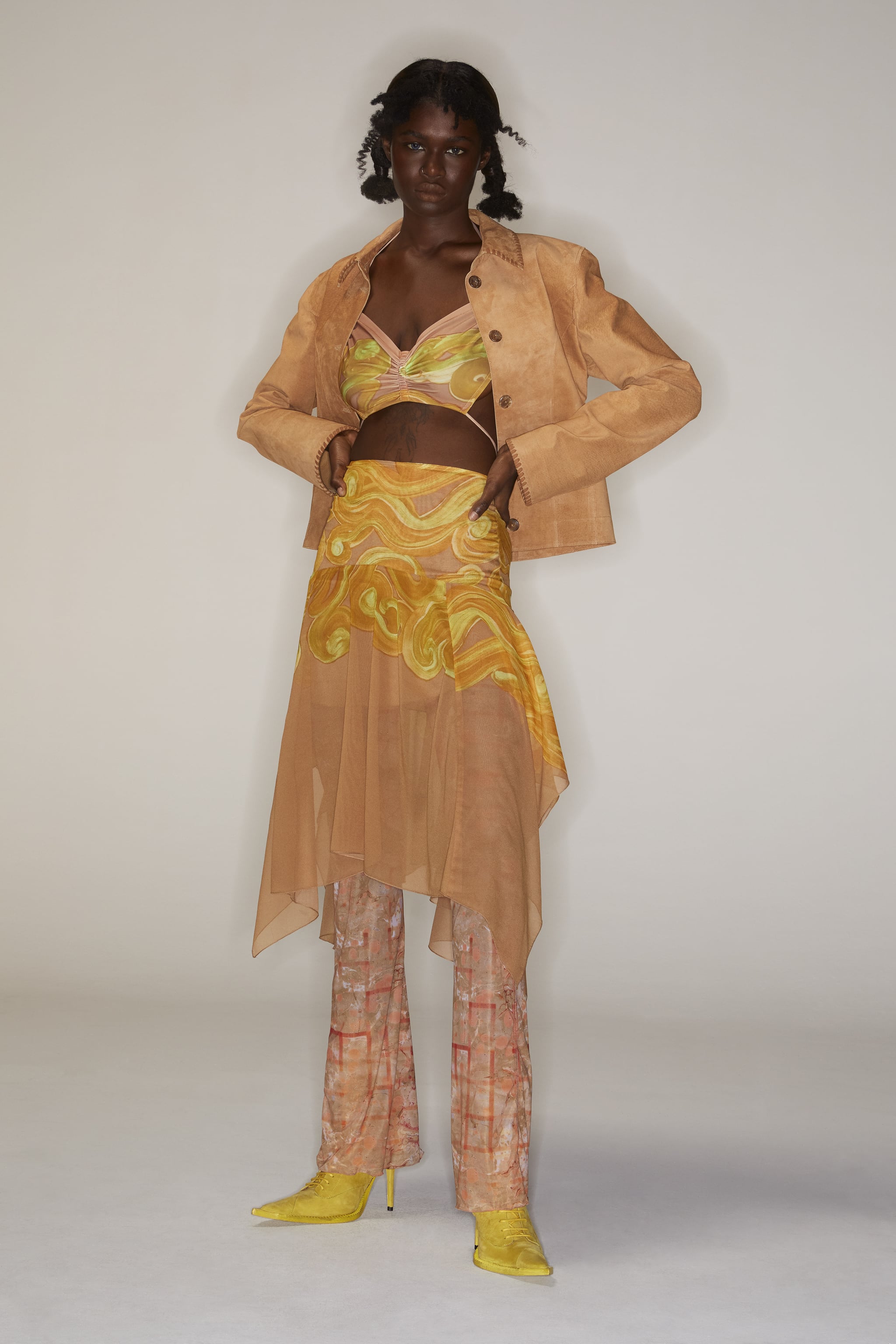 Charlotte Knowles SS21
Drawstring Details
Drawstring dresses, separates, and accessories are our favourite new season fashion trend. There's a delicacy in thin, spaghetti-strap details that has us excited for next year's warm-weather clothing. The drawstring design, as well as spaghetti straps, both peaked in the '90s, which brings a nostalgic element to this SS21 trend. We loved the drawstring butterfly tops at Charlotte Knowles and spaghetti-strap maxi dresses at Victoria Beckham. Fashion East's Nensi Dojaka had a delicate, dancewear-inspired take on spaghetti straps, whereas Roksanda showed some surprisingly interesting drawstring details on boots and dresses.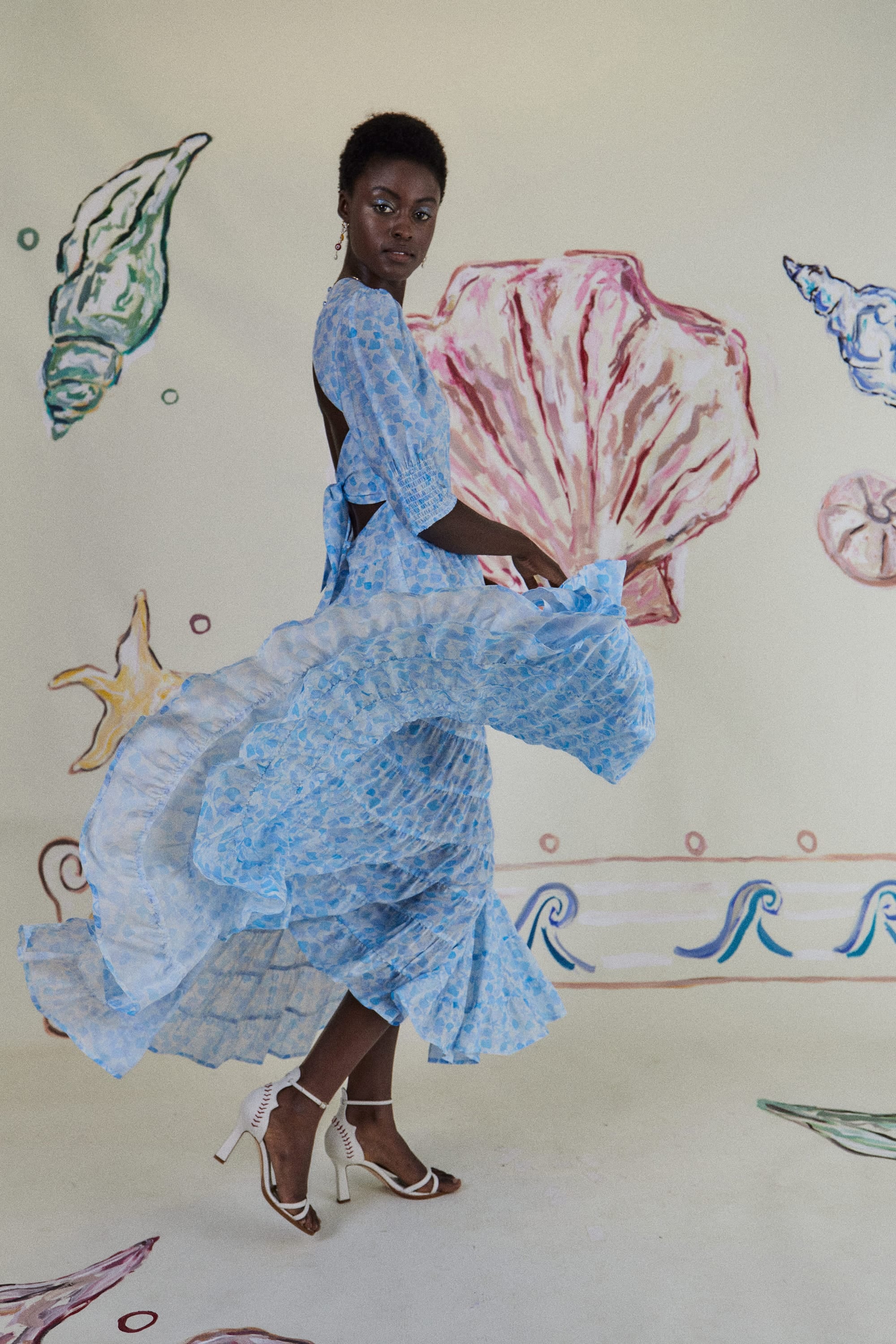 Rixo SS21
Dreaming of a Better Future
It's no secret that 2020 has been a challenging year for many industries, but fashion has been forced to reinvent itself from behind its glamorous veil. The future of fashion is about ethical transparency, radical inclusivity, and diversity of perspective. Some brands are embracing the new normal beautifully, and the ones that aren't will rightly be left behind. I'm happy that fashion — at least in the UK — is slowly deconstructing capitalism as best as we are able to, but it would be nice to see more dreaming and surrealism in the world of art and culture. It feels like we are all sharing this bizarre dream together, and if it feels like a dream, I would like to see more clothes for dreaming — more colour, more strangeness, more surrealism that validates how we are all feeling. I found that a lot of show notes mentioned focusing on the positive and looking forward — which makes absolute sense — but maybe it's a good time to also look within, as well as ahead. Maybe it's time to bravely confront the painful truths of the world we are creating, to dive into the shadow of this moment, and use what we find there to inform something new, and to guide us into a better future.
Image Source: Vivienne Westwood