Ethical Fashion: How to Make Your Wardrobe More Sustainable
5 Ways to Make Your Wardrobe More Sustainable and Ethical (but Still Fashion Forward) in 2021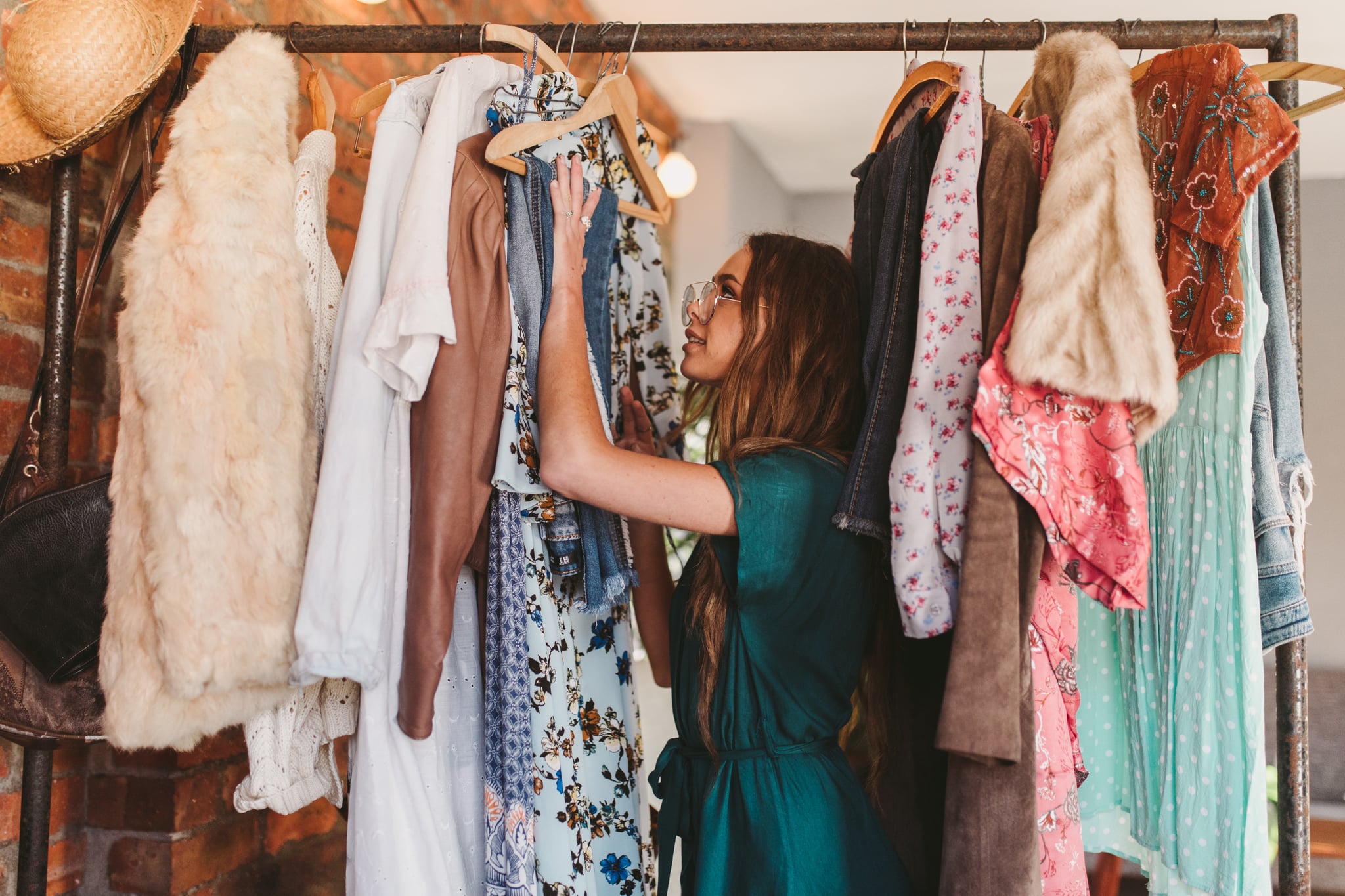 We're all familiar with New Year's resolutions like working out more or drinking less; but in 2021, it may be time to consider a sartorial goal of shopping more ethically when it comes to fashion.
In the UK, 30-percent of the clothing in our wardrobes are never worn, according to a report by Waste and Resources Action Programme (WRAP). In addition to that, the coronavirus pandemic hit fast fashion's supply chain at its most vulnerable point in 2020, exposing how little garment workers are being paid, and how much they are being exploited by brands that are raking in millions. Add that to the fact that the fashion industry contributes to 10-percent of humanity's carbon emissions and is the second biggest drain on the world's water supply — it makes you realise that shopping secondhand is extremely timely and important.
Fashion icons like Kate Moss and Florence Welch have long regarded their preloved pieces as highly as their designer couture, but how does the average fashion lover shop more sustainably without giving up on style and trends? Like any resolution or new habit, it takes a mindful approach and consistency. Making your wardrobe more sustainable requires fewer purchases of higher quality clothing, becoming savvy at shopping second-hand, and sharing fashion through clothing rental apps.
Being a more ethically-minded fashion enthusiast doesn't mean you can't enjoy shopping, it just means you have to shop a little differently. If you're interested in how to shop second-hand in 2021, the following tips will make it an effortless transition — while still ensuring you'll be the best dressed in the room.
Discover Vintage Shops Online
For the veteran vintage buyers among us, the pandemic initially brought our rail-scrabbling ways to a halt. But when everything went digital, the preloved industry stepped up to the challenge. Timely ideas like A Virtual Vintage Market — an online platform for sellers to showcase their collections — perfectly filled the gap of the fashion fairs that were missing from our lives.
A Virtual Vintage Market runs two virtual markets per month and recently launched a fashion rental service for a thriving community of thrifters, but they aren't the only innovators. Plenty of other brands offer online sales and product curation services, including Waiste Vintage, The Pansy Garden, Laura Von Behr Vintage, and so many more digital vintage hubs. While some would think that there is no bigger buzz than spending hours scouring little known emporiums to uncover a second-hand gem, you might be surprised that virtual vintage shopping is just as fun. It gives you the possibility to find an heirloom piece you'll keep forever, a pat on the back for encouraging a circular industry, and you support small British businesses when they need it most.
Break Out the Needle and Thread (or Call a Tailor)
For many of us, we had a lot more time on our hands last year. As 2020 saw us get crafty, from banana bread baking to Harry Styles-inspired crocheting, reworked fashion truly took its opportunity to shine. Whether you're a dab hand on the sewing machine or reckon it's best left to the experts, the notion of giving the pieces we already own and love a nip, tuck, hem, or chop to create a truly unique wardrobe item is one you should explore. Is there a skirt in your closet that's a little too long? Or a dress that you love but could do with cinching at the waist? Make them work for you by getting nifty with a needle and thread, or seeking out a local alterations service post-pandemic. Newly launched alterations app Sojo is hailed as the "Deliveroo of clothing repairs" and is conveniently connecting customers to local tailors all from the comfort of your own home.
When it comes to emerging brands that are giving reworked garments a new lease of life, look out for patchwork quilt jackets from Lola Alba, and statement ruffle collars created with repurposed fabrics by Medley Vintage. If all else fails, don't let your unworn items hang in your wardrobe forever. Swap, share, and donate your preloved clothes to allow them to be embraced by someone else.
Share What You Wear
On the topic of sharing, there is no better time to become part of the clothing rental revolution. Doing so not only provides you with a revolving collection of new styles, but it also allows you to dazzle in statement pieces without the guilt of one-wear shame.
Rental apps like By Rotation and HURR are two great options that are guaranteed to leave you feeling smug in regards to sustainability and style. Having the chance to delve into the closets of other people not only provides a surge of styling inspiration, but is also a purse-friendly way to experiment with new looks, discover brands, and find your unique aesthetic.
"This year is not just about getting dressed again, but it's truly about getting dressed for ourselves in a whole new way," Victoria Prew, cofounder and CEO of HURR, told POPSUGAR. "A lot of people are reconsidering their values, both in their personal style and their approach to fashion as an industry. At HURR, we want to help people make those dream outfits an accessible reality this year, while collectively reducing and preventing further fashion waste by sharing our wardrobes." So there's really every reason to start planning your latest borrowed look right now. Plus . . . who says you can't wear Prada on the sofa!?
Shop With Purpose
Purposeful shopping means you buy into more than just the physical product, and you hold greater importance on sharing aligned values with the brands you choose to shop. Becoming part of a community where the ethics of a brand are as important as their aesthetic is key to ensuring you make mindful decisions when you choose to invest your money.
Pledging to shop more ethically doesn't have to mean you never buy anything new, it simply means the businesses you're choosing to celebrate have ethical standards — often using recycled fabric in their designs, donating excess materials, and being innovative when it comes to sustainable practices. Right now, look out for brands that have pivoted towards sustainable models that champion limited-product runs and collection-based drops. We're loving mother-daughter trio Curse, made to order pieces at MaisonCléo, and 'It girl' favourite, Charlotte Simone.
Make Smart Investments
Although preloved shopping can be all about those chance finds, it often pays to be savvy when seeking out core investment classics. Curate a wish list of your dream second-hand items, like a signature Burberry trench coat or the lust-worthy Chanel 2.55, and set alerts for your most desired investment pieces on virtual resale sites, like Vestiaire Collective, Etsy, and Depop. When aiming for a very specific item, reach out to vintage sellers directly, as they often have a sourcing service (or may kindly keep an eye out for you regardless!). Bagging your dream piece will feel even more rewarding when you know that it's had a life before you, and it'll spark joy for years to come.