2-Week Clean-Eating Plan: Day 1 | Recipes
Day 1 Recipes: Clean-Eating Plan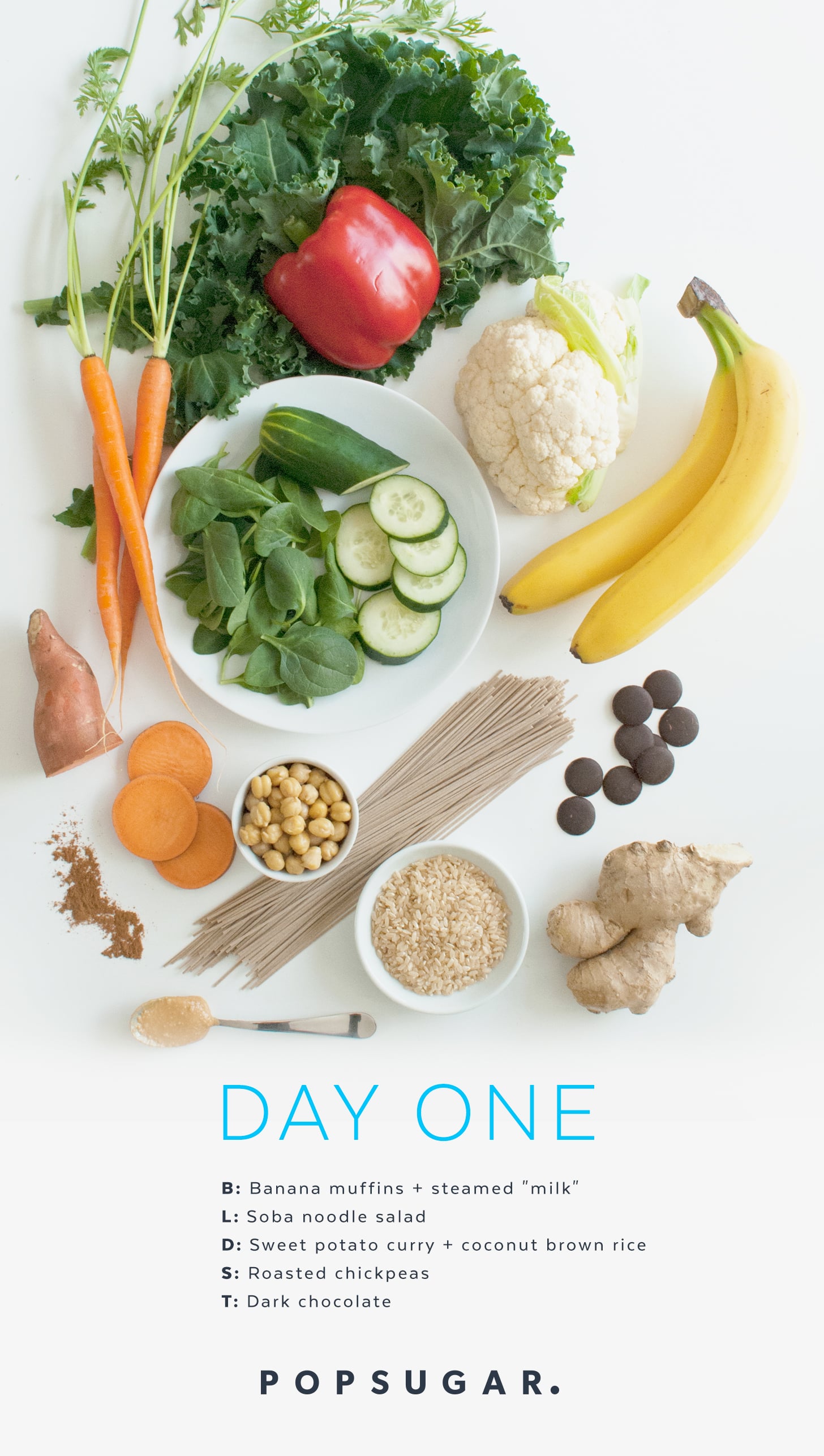 Breakfast: Two Muffins and Steamed "Milk"
Note: Make a batch of banana smoothie muffins and eat two muffins with 1 mug of unsweetened almond milk heated with 1 teaspoon honey and a pinch of cinnamon for breakfast.
Set aside two muffins for the snack on day two and breakfast on day four, then freeze the rest.
Banana Smoothie Muffins
From Jenny Sugar, POPSUGAR Fitness
Notes
These muffins taste best freshly baked, with the edges slightly crispy. Store leftovers in an airtight container.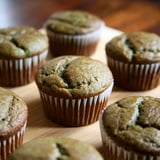 Ingredients
3 ripe bananas
40 grams packed baby spinach
8 strawberries
170 grams whole wheat flour
145 grams sugar
1 egg
60 mL rapeseed oil
1 teaspoon baking soda
1 teaspoon cinnamon
1/8 teaspoon salt
Directions
Preheat oven to 350°C/ 180°F/ Fan 160.
Puree the bananas, spinach, and strawberries in a blender.
In a medium-size bowl, combine the flour, sugar, egg, oil, baking soda, cinnamon, and salt.
Pour the smoothie mixture into the bowl and mix well.
Put paper or silicone muffin cups in a muffin pan (you'll need two pans for 14 muffins).
Spoon the batter, filling each cup about three quarters full.
Bake for 20 to 30 minutes or until a toothpick inserted comes out clean.
Allow muffins to cool on a rack and enjoy!
Makes 14 muffins. Here's the nutritional information for one muffin.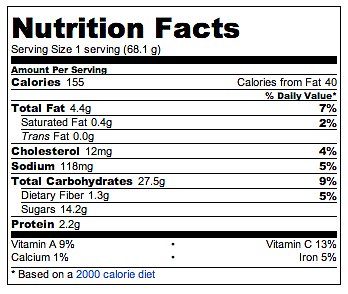 Source: Calorie Count
Information
Category

Main Dishes

Yield

14 muffins

Total Time

44 minutes, 59 seconds
Nutrition
Calories per serving

155
Lunch: Soba Noodle Salad
Note: Eat one serving; refrigerate one serving for lunch on day four.
Ingredients
170 grams low-sodium, 100-percent buckwheat soba noodles
125 grams creamy peanut butter
60 mL cup brown rice vinegar
1 tablespoon agave nectar or maple syrup
1 tablespoon minced fresh ginger
2 teaspoon low-sodium soy sauce
1 clove garlic, peeled
1 tablespoon lime juice
1 teaspoon fresh lime zest
10 grams chopped cilantro, divided
1 cucumber, peeled, seeded, and sliced
1 small red bell pepper, sliced
1 large carrot, grated
2 tablespoon chopped peanuts, optional
Directions
Cook noodles in boiling salted water according to package directions. Drain and rinse under cold running water.
Puree peanut butter, vinegar, agave nectar, ginger, soy sauce, garlic, lime juice, lime zest, and 1/2 of cilantro leaves in blender or food processor until smooth and creamy, adding two to three tablespoons of warm water to thin, if necessary.
Toss together noodles, cucumber, bell pepper, carrot, and peanut butter mixture. Garnish with remaining cilantro and chopped peanuts, if using.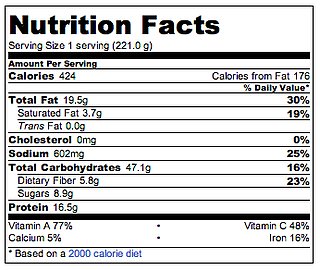 Information
Category

Main Dishes

Yield

4 servings
Nutrition
Calories per serving

424
Dinner: Coconut Curry and Chopped Kale Salad
Notes: Save one serving of chopped cauliflower for lunch on day seven. Eat one serving of curry with a side salad. Refrigerate one serving of curry and coconut for lunch on day two, and save 3/4 cup of coconut brown rice for breakfast for day two. Freeze the rest of the curry and rice for future meals.
Prep: Make 1 150 grams of dry rice and add an additional 120mL of water when cooking the coconut rice.
Chickpea Coconut Curry With Sweet Potatoes
From Jenny Sugar, POPSUGAR Fitness
Notes
Note: To reap the most flavour, you will need a slow cooker to make this recipe. If you don't have a slow cooker, make the curry in a stockpot, and let it simmer for one hour.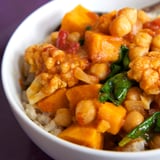 Ingredients
Curry:
1 teaspoon olive oil
1/2 yellow onion, chopped
1 clove garlic, minced
1 tablespoons minced ginger
420 gram can chickpeas (about 1 1/2 cups)
450 gram canned or boxed chopped tomatoes
300 grams small cauliflower florets
1 sweet potato, peeled and diced
1 can light coconut milk
240 mL vegetable broth
1 tablespoon garam masala
1/2 tablespoon curry powder
1 teaspoon salt
40 grams lightly packed baby spinach, chopped
Coconut rice:
210 grams uncooked brown basmati rice
1 can light coconut milk
120 mL water
1/4 teaspoon salt
Directions
To make the curry:
Heat the oil in a pan, and sauté the onions, garlic, and fresh ginger for seven minutes.
Transfer the onion mix to a slow cooker, and add remaining ingredients except for the spinach.
Heat on low for six hours (or on high for four hours).
Before serving, stir in the spinach, and heat for five more minutes.
To make the rice:
Add the rice, coconut milk, water, and salt to a saucepan. Heat on high, bringing to a boil, and then cover, reduce heat to low, and simmer for 40 minutes. Turn off the heat, and allow the curry to sit covered for 10 minutes. Serve along with rice.

Source: Calorie Count
Information
Category

Main Dishes

Cuisine

Indian

Yield

6 servings
Nutrition
Calories per serving

398
Kale Side Salad With Carrots and Cucumbers
Ingredients
1 cup chopped kale
1/4 cup sliced carrot
1/3 cup sliced cucumber
1 teaspoon olive oil
1 teaspoon balsamic vinegar
Pinch of sea salt
Directions
Whisk together the oil, vinegar, and salt.
Drizzle the mixture over the kale, carrot, and cucumber, and toss to coat.
Calories: 94.8
Protein: 3.425 grams
Carbohydrate: 10.7 grams
Dietary Fiber: 2.513 grams
Total Sugars: 2.856 grams
Total Fat: 5.218 grams
Saturated Fat: .693 gram
Snack: Roasted Chickpeas
Notes: You can sub Italian Spice Mix for Za'atar.
Eat one 2/3 serving as your snack and place the rest in an airtight container for the snack on day three and dinner on day four.
Mediterranean-Spiced Roasted Chickpeas
Adapted from Bon Appétit
Notes
If you don't like the texture of chickpeas' papery skins, peel them by gently rubbing their skins off with your fingertips. Make certain that the chickpeas are thoroughly dried before tossing with the olive oil and spices; after rinsing spread them out on a dishtowel or paper towels, and let sit until dry. Za'atar can be found in the spice section of many supermarkets.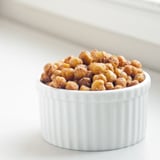 Ingredients
1 1/2 teaspoons za'atar
1 teaspoon cumin seeds
1 15-ounce can chickpeas, rinsed, and thoroughly dried (peeling optional)
1 tablespoon extra-virgin olive oil
A pinch cayenne pepper
3/4-1 teaspoon kosher salt (to taste)
1 teaspoon granulated sugar
Directions
Preheat the oven to 400ºF. Toast the za'atar and cumin seeds in a small skillet over medium heat until their aroma becomes pronounced and they begin to brown slightly. Transfer the spices to a spice grinder, and pulse until powdery.
Toss together the spices, chickpeas, olive oil, cayenne, salt, and sugar in a large bowl until the chickpeas are evenly coated. Spread the chickpeas out in a single layer on a half-sheet pan and roast for 25-35 minutes, or until golden-brown and crunchy.
Information
Category

Snacks

Yield

Makes about 1-3/4 cups roasted chickpeas
Treat: Dark Chocolate
Note: Eat 30 grams of dark chocolate; aim for 55 percent cacao or higher!
Helpful Links
Welcome to the 2-Week Clean-Eating Plan — You're Going to Love It
Answers to Your Frequently Asked Questions on the Clean-Eating Plan
Image Source: POPSUGAR Photography / Sarah Lipoff