Advanced 30-Minute Treadmill Workout
Combine Cardio and Strength With This 30-Minute Treadmill Workout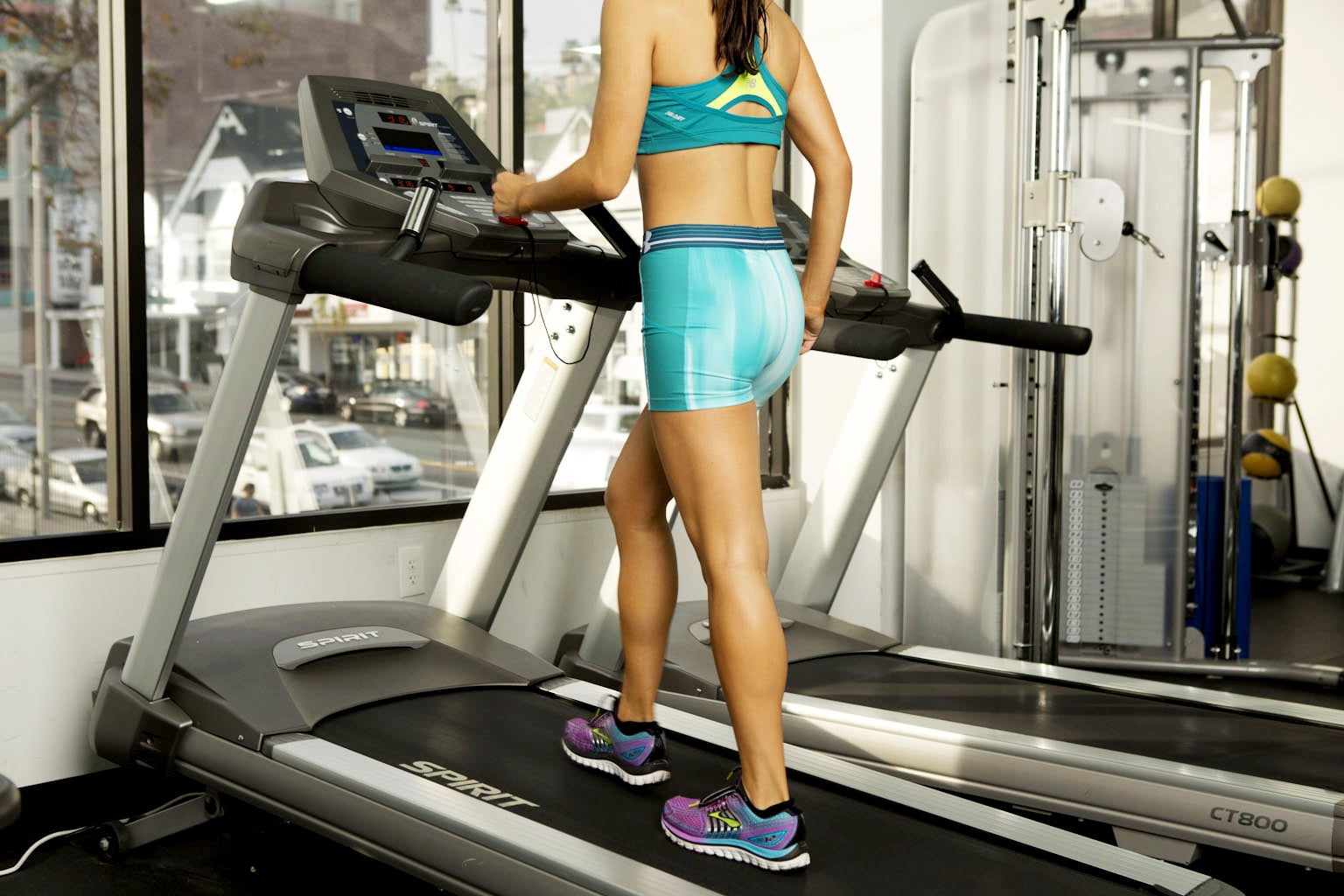 Ready to hit the tread and get a great sweat sesh in? This treadmill workout was designed by Gold's Gym Director of Fitness Andy Coggan just for POPSUGAR.
"This is a full-body treadmill workout designed to burn calories and build strength," Andy told us. "No need to hit the weights after this routine, as each five-minute segment integrates an upper- or lower-body resistance movement with some sprints mixed in to keep the heart rate high throughout."
This 30-minute routine will breeze by — you'll be doing something different and challenging every other minute. Keep in mind that this workout is on the advanced side, and you'll need a set of hand weights for the cup holders on your treadmill for the strength-training portions. Are you ready? Let's go!
| TIME | SPEED (MPH) | INCLINE | NOTES |
| --- | --- | --- | --- |
| 0:00-1:30 | 2-3 | 0% | Easy start to gradually warm up |
| 1:30-3:30 | 3-4 | 3% | Increase speed and incline; this is your "base pace" |
| 3:30-5:00 | 4-5 | 3% | Increase 1 mph from where you were |
| 5:00-6:00 | 1-1.5 | 5% | Complete 1/2-depth lunges by lunging to the front of the tread and alternating legs |
| 6:00-7:30 | 3-4 | 3% | Base pace |
| 7:30-8:30 | 1-1.5 | 5% | Complete 1/2-depth lunges by lunging to the front of the tread and alternating legs |
| 8:30-10:00 | 3-4 | 3% | Base pace |
| 10:00-11:00 | 3-4 | 3% | Take 5- to 15-pound dumbbells and complete reps of biceps curl to overhead press for 60 seconds |
| 11:00-11:30 | 3-4 | 0% | Put dumbbells in racks/cup holders and prep for 30-second sprint |
| 11:30-12:00 | 6-10 | 0% | Sprint; choose a speed challenging for the 30 seconds |
| 12:00-13:30 | 3-4 | 3% | Base pace |
| 13:30-14:30 | 3-4 | 3% | Take 5- to 15-pound dumbbells and complete reps of biceps curl to overhead press for 60 seconds |
| 14:30-15:00 | 3-4 | 0% | Put dumbbells in racks/cup holders and prep for next stage |
| 15:00-15:30 | 2-3.5 | 0% | Lateral shuffle (holding hand rail if necessary) |
| 15:30-16:00 | 2-3.5 | 0% | Lateral shuffle opposite side |
| 16:00-17:00 | 3-4 | 3% | Base pace |
| 17:00-17:30 | 2-3.5 | 0% | Lateral shuffle (holding hand rail if necessary) |
| 17:30-18:00 | 2-3.5 | 0% | Lateral shuffle opposite side |
| 18:00-19:00 | 3-4 | 3% | Base pace |
| 19:00-19:30 | 2-3.5 | 0% | Lateral shuffle (holding hand rail if necessary) |
| 19:30-20:00 | 2-3.5 | 0% | Lateral shuffle opposite side |
| 20:00-21:00 | 3-4 | 3% | Take 5- to 15-pound dumbbells and complete reps of biceps curl to overhead press for 60 seconds |
| 21:00-21:30 | 3-4 | 0% | Put dumbbells in racks/cup holders and prep for 30 second sprint |
| 21:30-22:00 | 6-10 | 0% | Sprint; try to go just a bit faster than the first sprint if possible |
| 22:00-23:30 | 3-4 | 3% | Base pace |
| 23:30-24:30 | 3-4 | 3% | Take 5- to 15-pound dumbbells and complete reps of biceps curl to overhead press for 60 seconds |
| 24:30-25:00 | 2 | 10% | Put up dumbbells and change incline and speed to prep for the next stage |
| 25:00-27:00 | 1-2 | 15% | Walk backward (holding rails if necessary) for two full minutes |
| 27:00-28:00 | 3-4 | 3% | Turn to face forward again on the treadmill and return to base pace |
| 28:00-30:00 | 2-3 | 0% | Cool down |