Avocado, Basil, and Tomato Vegan Pizza
The Dairy-Free Pizza Is So Delicious Even Non-Vegans Will Love It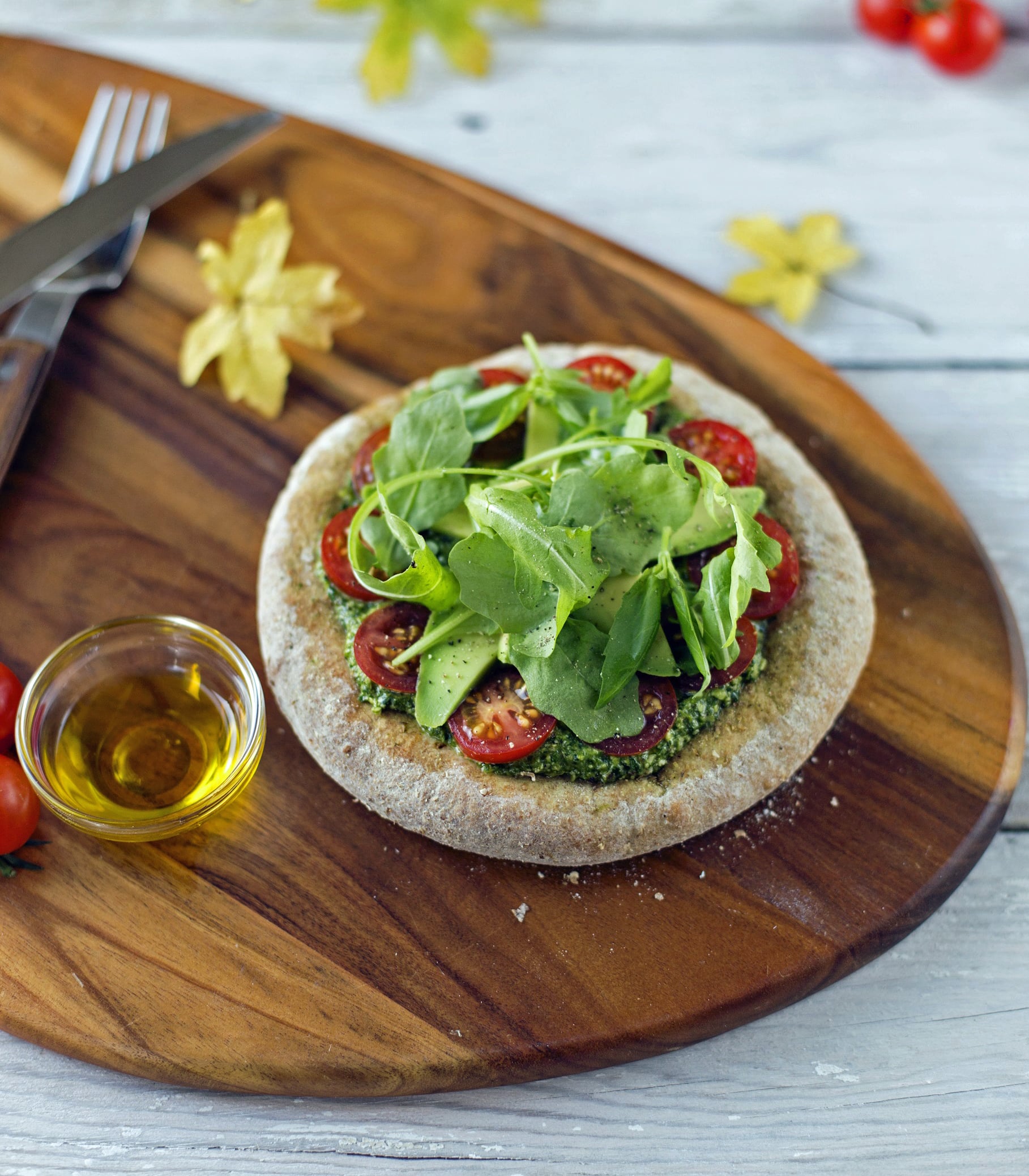 Whether you're newly vegan and missing the flavours of your old diet, or just want to cut down on your dairy intake, there are ways to enjoy your old favourites without sabotaging your current goals. Case in point, this easy, peasy pizza that tastes just as good as the "real" thing and is 100 percent dairy-free.
Cherry tomato, avocado and basil vegan pizza
Amanda Hamilton
Ingredients
1 handful of fresh spinach
4 cherry tomatoes
1 handful of rocket
3 sprigs of basil
35 g cashews
60 ml olive oil
juice of half a lemon
1/4 of an avocado
1 tbsp white wine vinegar
1.5 tsp Udo's Choice Beyond Greens
125 g pizza dough mix
Directions
Preheat your oven to 180 degrees or gas mark 4, and line an oven tray with baking paper.
Place the pizza dough mix in a bowl and add the vinegar, half of the olive oil and just enough warm water to form a dough. Combine the ingredients well and knead for 5 minutes.
Spread a light layer of oil on the baking paper, place the dough on the baking sheet, and flatten it using your palms, try to create a raised area for the crust. To avoid the dough sticking to your hands, grease them up with a little oil.
Bake the crust for 15 to 20 minutes, or until it is lightly browned.
While your crust bakes, pulse the spinach, basil (keeping a few leaves back for garnish), olive oil, cashew nuts, beyond greens powder, lemon juice, salt, and pepper, blend until smooth.
Remove the pizza crust from the oven and spread this mix evenly over the centre.
Top with slices of cherry tomatoes and avocado, and garnish with a few basil leaves and the rocket.
Information
Category

Pizza

Yield

Serves 1
Image Source: Udo's Choice