Before and After Weight Loss Rachelle Hosick
How Beachbody Helped This Mum of 2 Lose 155 Pounds
As a mum of two and a teacher's aide, Rachelle has always put others before herself. But after hitting 300 pounds (21 stone 4 pounds), she knew that in order to take care of the people she loved, she had to get healthy and take care of herself first.
Rachelle: Before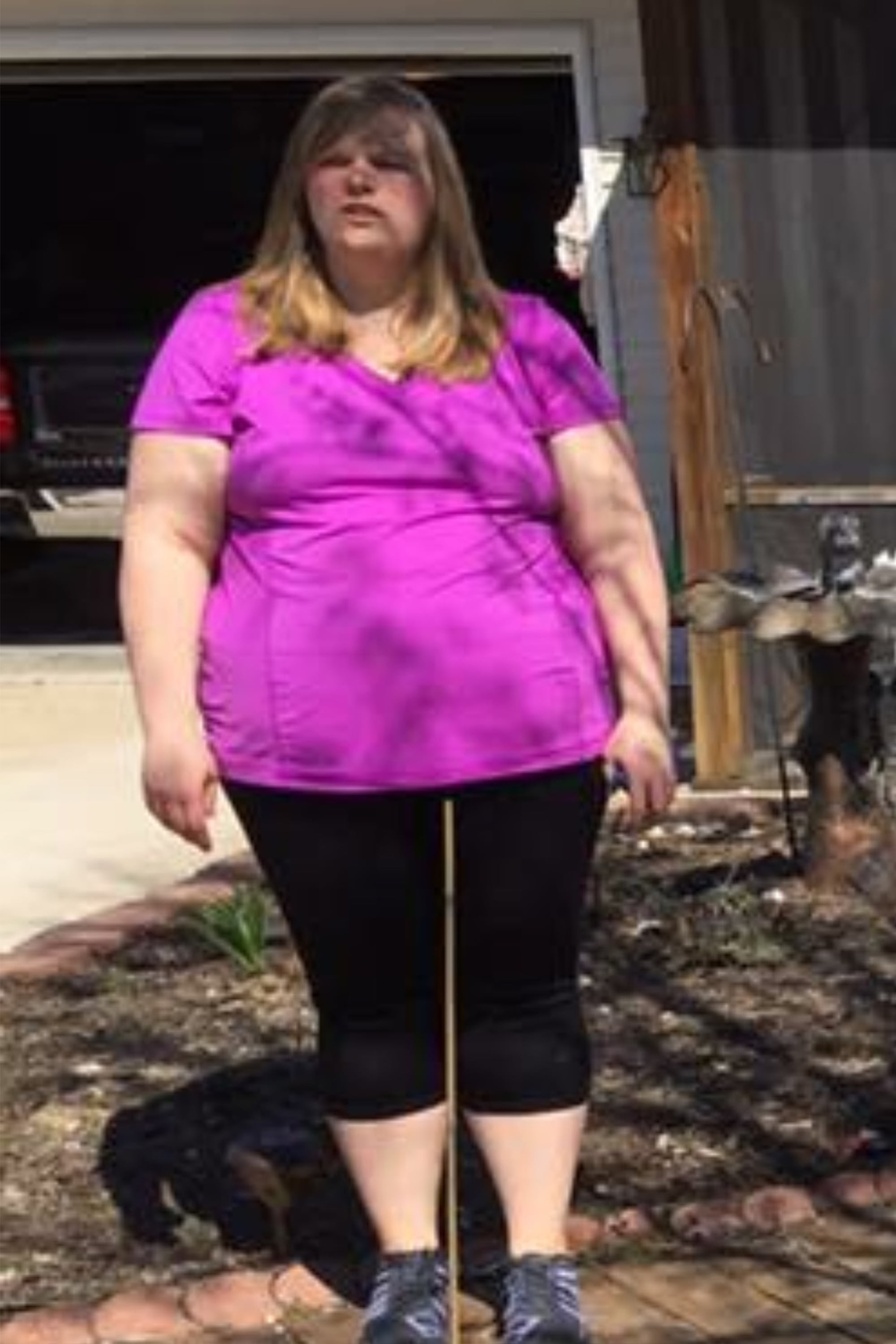 She took action, knowing she wanted to take better care of little boys, and the results have payed off! Rachelle has lost 155 pounds overall (11 stone) — 120 in just eight months — by eating healthy with a portion-control system and by using Beachbody's 21 Day Fix.
POPSUGAR: What made you decide to start your weight-loss journey?
Rachelle Hosick I knew that I needed to lose weight and get healthy for quite some time. I had always said that I would start once I finished off that last bottle of soda or that last bag of junk food, but I always just bought more. The day that I decided I was really ready, I had just sat down with a huge glass of soda and a plate overflowing with junk food as I watched my two boys playing on the floor. I remember thinking that if I didn't do something, I wouldn't be around to raise them.
I remember thinking that this wasn't the kind of mum I wanted to be; my kids deserve to have a mum that actually plays with them. That my kids and my husband deserved better. That I deserved better than how I felt. So instead of finishing off the soda and the junk food, I got up and dumped the soda down the drain and tossed all the junk food I had become addicted to in the trash. I knew it was better to "waste" all that food than to continue wasting my life.
PS: Was there one thing in particular that contributed to your weight gain?
I was pretty heavy from like fifth to ninth grade, to the point where at my ninth grade school checkup, the doctor wanted me to go see a nutritionist to tell me how to eat. I got involved in tennis in high school and lost the weight.
I was perfectly fine with my weight and health until 2007 when I got my wedding dress in and it didn't fit with only like a month to go till my wedding. So instead of altering the dress to fit, I basically starved myself to fit into it. It worked . . . the dress fit on my wedding day, but I just went crazy with food after that. Like I was free to eat whatever I wanted and I was going to do it.
It didn't help that at the same time I went from being super active to basically inactive as I got a job in a customer service call centre where I sat the entire day. I didn't get home till 8:30 at night when my husband and I would eat and then go to sleep. Of course, I didn't feel like cooking, so we ate fast food a lot of the time. The weight just piled on.
PS: What drew you to Beachbody specifically?
RH: I decided to give Beachbody a try after my sister told me I needed to (and went as far as to loan me her 21 Day Fix set). I had seen her have great success with it, so I knew it worked for her.
When I started out on my journey, I began walking and trying to eat what I thought was healthy. I lost about 15 pounds but got super bored and began falling back into my old habits. Beachbody had an answer to all of my excuses. My excuses for not working out had always been that I couldn't afford a gym membership and if I did find some way to get one, I didn't have anyone to watch my boys. Thanks to Beachbody and 21 Day Fix, I can work out in the comfort of my own home.
"This wasn't the kind of mom I wanted to be. My kids and my husband deserved better. I deserved better."
PS: What's your favourite way to work out?
RH: I love being able to go into my son's tiny little room and push play for 30 minutes and know that I got an amazing workout in. In the beginning, I used DVDs, but now I have the all-access pass to Beachbody on Demand (BOD). Thanks to BOD, I can now do my workout wherever I want. I love being able to take my laptop or phone outside while my boys play in the yard or ride their bikes in the driveway while I get a quick workout in. Sometimes they'll even join me.
PS: What's your weekly exercise schedule?
RH: I work out every single day. Twice a week I'll have an active recovery day where I'll do yoga or Pilates.
Rachelle After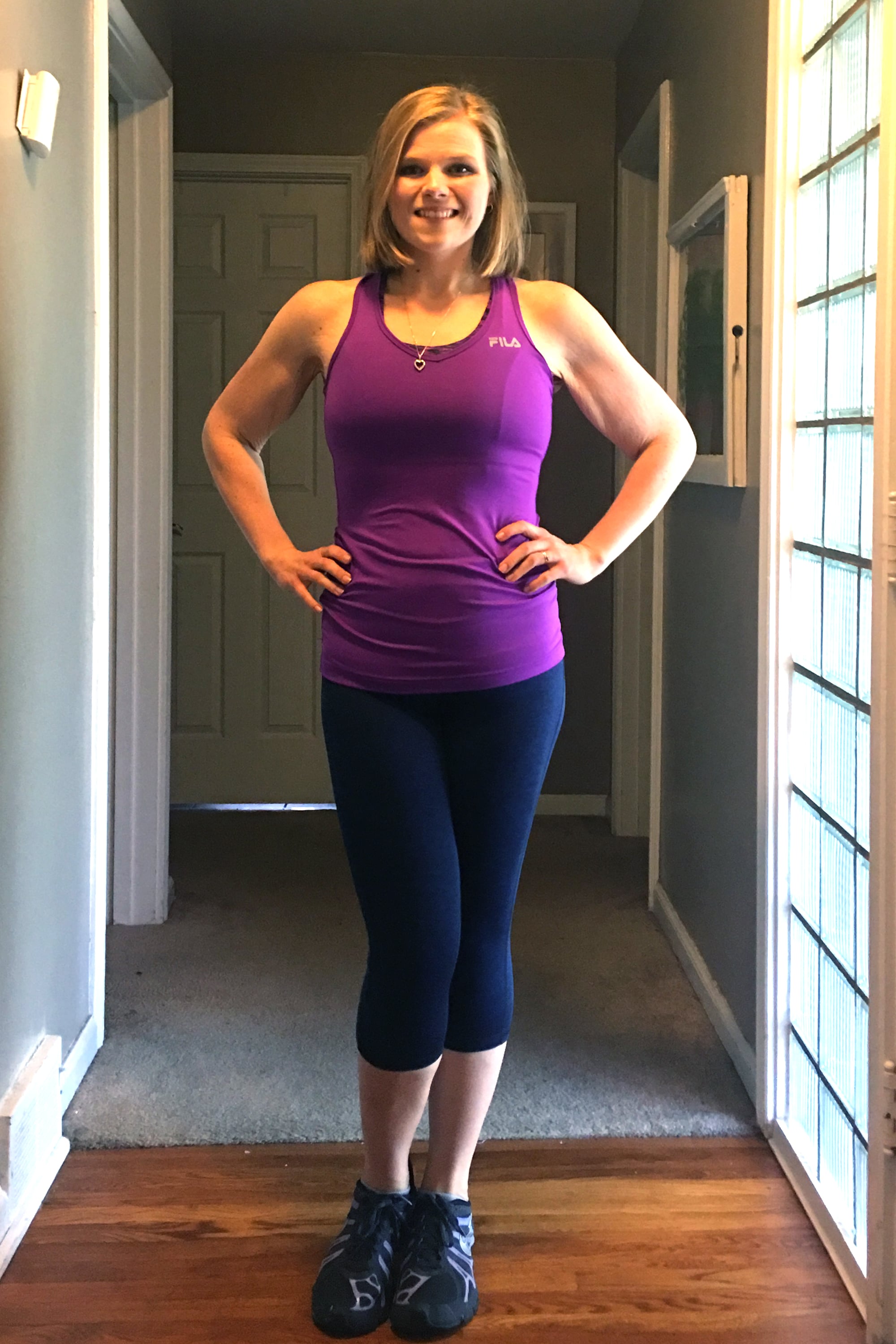 PS: How do you keep workouts exciting?
RH: When I don't want to get my workout in, I always try to get someone to do it with me. It is always super fun when I get my husband to join me! But the thing is, workouts don't have to be exciting. I'm not one who loves working out. If I was, I probably would have never gotten as big and unhealthy as I did. For me, I have made workouts a nonnegotiable. No matter what, I will always get a workout in. That's what keeps me on track.
PS: How much weight have you lost?
RH: I lost 15 pounds (about 1 stone) prior to Beachbody and lost another 140 pounds (10 stone) with Beachbody (using 21 Day Fix and 21 Day Fix Extreme).
PS: What was the first big difference, other than the number on the scale, that really made you feel proud and excited?
RH: The first non-scale victory for me was being able to shop in the regular-size section at the store. I was so excited being able to buy my first size-16 pants!
PS: How do you track your weight loss?
RH: I weigh myself every morning to keep me accountable. I also constantly compare my body now to old pictures to see what kind of changes I am making.
PS: What's a typical day of meals and snacks?
RH: I pretty much eat every two to three hours. I start every morning with a hot cup of green tea. This is my typical eating schedule:
7 a.m.— Breakfast: Usually Shakeology
9:30 a.m. — Snack: Baby carrots
11:30 a.m. — Lunch: Chicken with sweet potato, butternut squash, or steamed broccoli
1 p.m. — Snack: Apple with peanut butter
3:30 p.m. — Snack: Cheese or almonds, hard-boiled eggs
5:30 p.m. — Dinner: Whatever I fix for my family; usually I'll save a carb, protein, and veggie for dinner
PS: Do you count calories? What's the range of calories you eat per day?
RH: No, I do not count calories. There's no need to count calories since I have the portion-fix containers. I just keep track of how many containers I have to use each day.
Rachelle: Before and After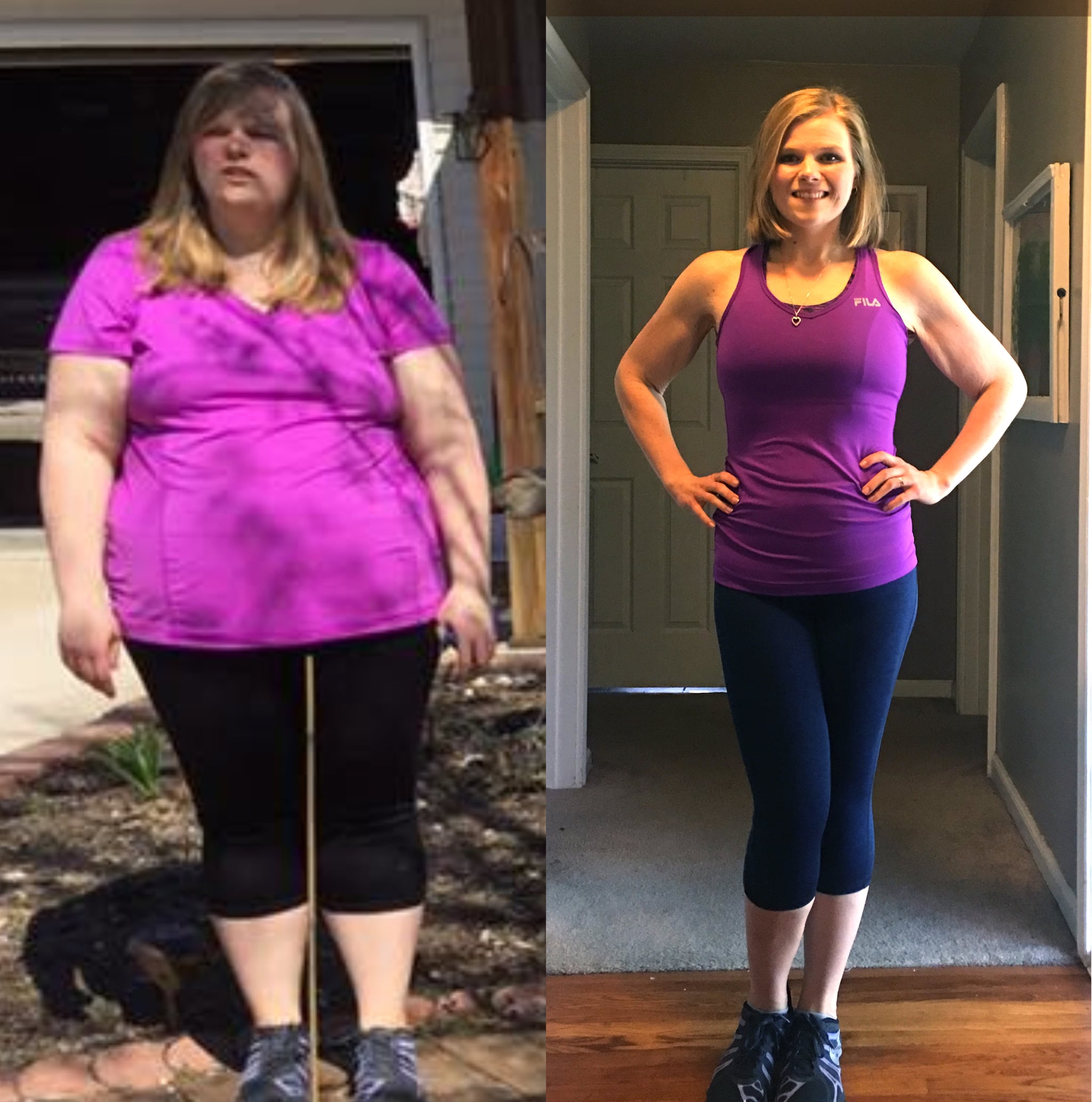 PS: What are the healthy staples that are always in your fridge?
RH: Baby carrots, seasonal fruit, Greek yoghurt, eggs, grilled chicken, and steam-fresh veggies are always on hand.
PS: How do you strategise for meals out?
RH: I usually get on the restaurant's website and take a look at their menu and find something I'd like to have an plan my day for it (so I don't go over my containers). If the restaurant doesn't have a website, I'll usually just plan for a carb, veggie, and protein. The thing with eating out is don't be afraid to make special requests. Ask for the sauce on the side, or ask to only season with black pepper to avoid a lot of salt.
"Don't wait finish that last drop of soda, don't finish that last bit of junk food, don't wait for Monday . . . go start now!"
PS: What advice do you have for anyone starting out on a weight-loss journey?
RH: Beachbody's programs are the reason I am where I am today. They provided me with everything I needed to succeed and not only reach my goals, but surpass them. They provide workouts I can do in the comfort of my own home, give me a meal plan to teach me how to truly eat to fuel my body, and offer a great support system through challenge groups. I would definitely recommend giving Beachbody a try!
If you're just starting out on your journey to health, my biggest tip is to set a huge overall goal you'd like to accomplish and then set a small one to work toward. My big goal was to fit into my old wedding dress by my 10-year wedding anniversary. I didn't necessarily know what weight that would be, but I figured it would mean losing at least 100 pounds as I couldn't even get my dress on my body when I started.
My smaller goals along the way consisted of being in smaller-size jeans of different weight milestones like lose 25 or 50 pounds. And when I reached those goals, and only when I reached those small goals, I had a cheat meal. It isn't easy, but nothing worth having is ever easy! Set those small goals and just start! Don't wait finish that last drop of soda, don't finish that last bit of junk food, don't wait for Monday . . . go start now!
Image Source: Rachelle Hosick