Colour Run Tips
6 Things to Know Before Your First Colour Run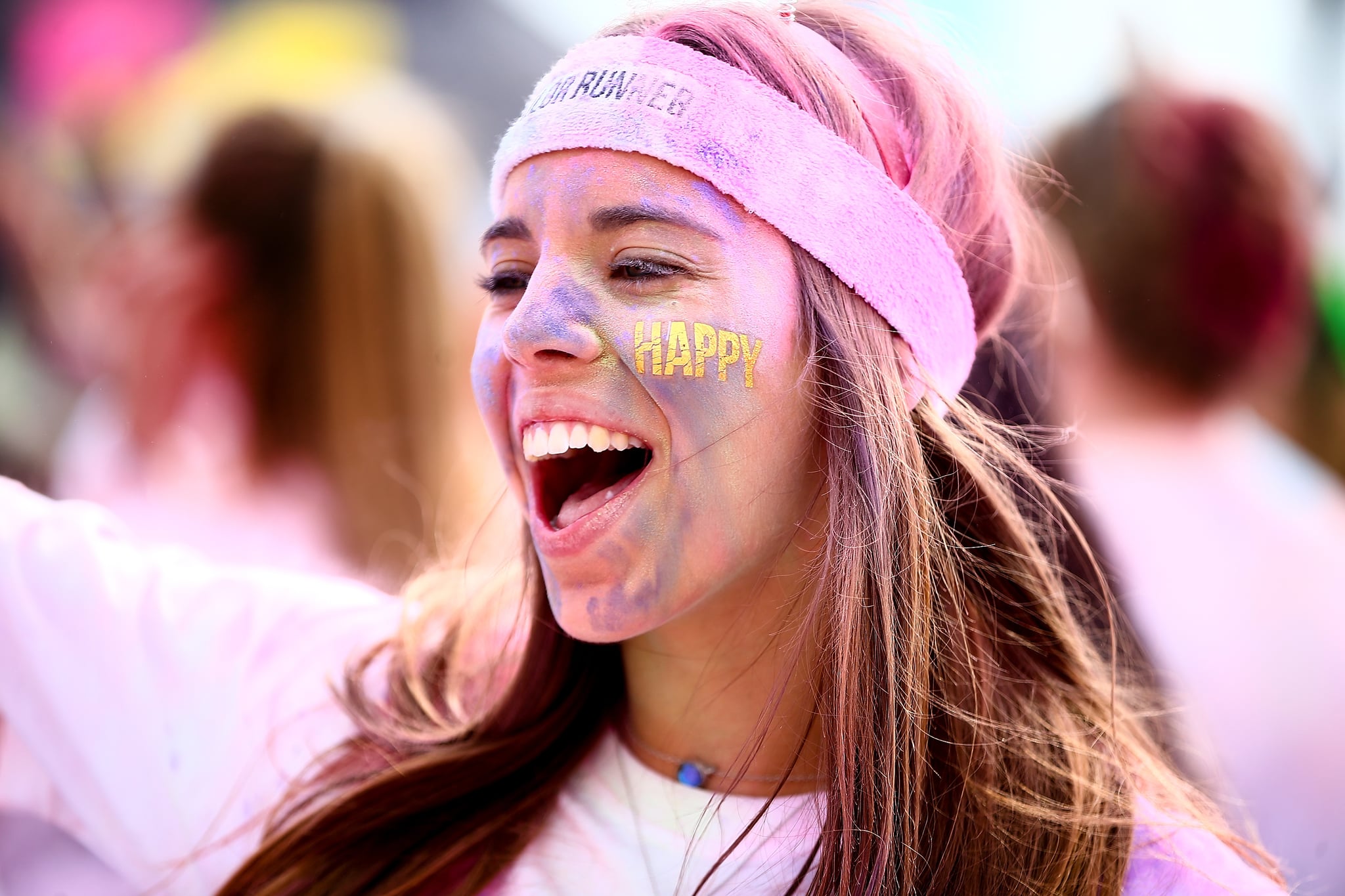 If you haven't yet taken part in a Colour Run you should definitely try it. This popular 5K is sort of like a crayon box exploding: as participants make their way through the course, volunteers cover them in coloured powder. As you can probably already tell, this is a fun run that welcomes all ages and athletic ability, but just because it's fun doesn't mean there shouldn't be some prep involved. After running it for ourselves, here are some insider tips on how to prep and what to expect when doing a Colour Run!
Related: How to Train For Your First Serious 5K
You don't need to be a runner: The Colour Run is a beginner's dream: it's not timed, families and children are welcome, and there's a designated walking lane. Serious runners, take note: unless you are part of the lead pack or especially good at dodging crowds, you probably won't be able to run for time. During our run, the sheer amount of participants coupled with the stop-and-go colour stations and the small size of the running lane made it difficult to consistently run any faster than a 12-minute mile. If you've never run continuously prior to the event, this is a great pace for a beginner runner.
The earlier, the better: With more than 10,000 entrants, it counts to be early when it comes to the Colour Run. Because registration fees increase as the day of the event draws near, make sure to sign up early (registration starts around $45 (about £30). The week of the Colour Run, pick up your bib packet in advance; otherwise, expect to be waiting in a long line when you arrive the day of the run.
Protect yourself: From the beginning of the run to well after you cross the finish line, there is coloured powder coming at you from every direction. Protect your eyes and mouth with a pair of sunglasses and bandana, and make sure to keep any valuables sealed in plastic bags — especially cameras and phones. If you don't want to be completely doused in powder, stay in the middle of the lane when going through a colour station.
Bring a buddy: This is definitely a fun run dominated by costumed teams, groups of friends, and families. Adding to the social feel of the Colour Run, the finish-line celebrations consist of a huge dance party and a gathering of food vendors. Because of the Colour Run's party element and the absence of a timed race, it's one event that is better enjoyed with friends.
Save your colour packet until the end: While you may be tempted to bust open the colour powder that came in your entry packet before you start running, save it for the finish. You'll have plenty of opportunities to be doused in colour by volunteers during the run. More importantly, you'll later be left out of the fun if you're without a colour packet when everyone lets their colour out onto the dance floor.
The cleanup: It may only be coloured cornstarch, but the powder can still stain. First off, do not wear anything that you'll be upset to lose. While the coloured powder may come out in the wash, there's a good chance it won't depending on how much it's set. Plan on giving yourself a good scrub in the shower once it's over, and don't be surprised if it takes a few washings to get rid of all the colour — especially if you have blond hair (you may want to save yourself the hassle by just wearing a hat during the run). There are cleaning stations past the finish line that consist of air blowers, but you might want to bring a towel (or change of clothes) if your car has light-coloured seats.